This special Premium Napa Cabernet Event features wines exclusively from the renowned region of Napa Valley, California. With its warm Mediterranean-esque climate, Napa is often thought of as the heart of American wine production. WTSO is excited to bring you a variety of Napa Valley favorites up to 80% off for a limited time on Tuesday, September 27. Don't hesitate, though, as bottles will sell out throughout the day!
California's Napa Valley region can be divided into 16 sub-regions or American Viticultural Areas (AVAs). Below we'll explain what makes each AVA so special.
Atlas Peak
High above the valley floor, along the western slopes of the Vaca Mountains, vineyards here offer a combination of warm summer days and cool nights. This helps transform grapes into bright, focused wines. The leading grape varieties grown in Atlas Peak are Cabernet Sauvignon for reds and Chardonnay for whites. 
Calistoga
This AVA is located in northern Napa Valley. It has volcanic soils and some of the region's warmest temperatures lead to wine production dominated by firmly structured Cabernet Sauvignon and fruit-driven Zinfandel. 
Chiles Valley District
Zinfandel and Cabernet Sauvignon plantings flourish on the valley floor of this area surrounded by steep, rugged hills. Cooler nighttime temperatures allow these grapes to retain the acidity needed in the production of bigger red wines.
Coombsville
The cool breezes and fog that move up from the San Pablo Bay, along with hillside vineyards, provide a moderating influence to this up-and-coming AVA. Cabernet Sauvignon especially enjoys the long growing seasons found here.
Diamond Mountain District
To the south of Calistoga, the comparatively small Diamond Mountain District is recognized for tannic, age-worthy Cabernet Sauvignon. The elevated, sun-drenched vineyards here benefit from warm days and vigorous root systems. This results in lower yields of ripe, flavorful grapes. 
Howell Mountain
Warm and dry hillside vineyards in this distinct northern Napa Valley AVA rest above the fog line, where the high elevation gives grapes cooling relief. Howell Mountain is celebrated for opulent, intensely flavored Cabernet Sauvignon with excellent cellaring potential.
Los Carneros
Wines produced from Pinot Noir and Chardonnay are the specialty of this cool-climate AVA and often display a fresh, elegant style. The San Pablo Bay helps to regulate temperatures here. Los Carneros is divided in two, with the Napa Valley portion to the east and Sonoma to the west. 
Mount Veeder
Another high-elevation sub-region is Mount Veeder, acclaimed for its premium Cabernet Sauvignon. The area's extended, moderate growing season produces grapes of a superbly ripe, complex character that become structured wines capable of improving over time. Chardonnay also grows quite well here.
Oak Knoll District of Napa Valley
North of Carneros, this AVA also enjoys the cooling influence of the San Pablo Bay but with more attention paid to Merlot and Cabernet Sauvignon for red wines. A diverse selection of white wines are produced here from grapes including Chardonnay and Riesling. 
Oakville
Nestled in the heart of Napa Valley, Oakville is an essential AVA for Cabernet lovers. Well-drained soils, ample sunshine, and a moderately warm climate allow some of the region's most distinguished producers to craft lavishly textured wines that repay cellaring. 
Rutherford
Like its Oakville neighbor, Napa's warm Rutherford AVA is also a premium source for boldly flavored, collectible wines made from Cabernet Sauvignon. The hallmark "Rutherford dust, " a mineral quality often found in the best bottles of the area, gives these reds a distinct sense of place. 
Spring Mountain District
Cool ocean air and a high altitude temper the climate of Spring Mountain District. Beautiful expressions of Cabernet Sauvignon and Merlot have immediate appeal in their youth but can age well, too. Bright bottlings of Chardonnay also come from this charming AVA.
St. Helena
Napa Valley's St. Helena AVA is located directly east of Spring Mountain District and provides vineyards with advantageous warmth for ripening grapes. Red wines are a staple of this sub-region, especially long-lived Cabernet Sauvignon and brambly Zinfandel.
Stags Leap District
This small sub-region of Napa is another AVA celebrated for classic, elegant styles of Cabernet. Ocean breezes and fog moderate the warm climate here and help grapes retain balancing acidity in wines prized for their full, lush texture. 
Wild Horse Valley
Of Napa's 16 AVAs, the modest Wild Horse Valley has the coolest growing seasons. Influence from the San Pablo Bay makes this area suitable for growing Burgundian grapes like Pinot Noir and Chardonnay. 
Yountville
Yountville AVA is situated to the south of Oakville and has a solid reputation for exceptional Cabernet Sauvignon as well as Merlot. Its central location and relatively moderate climate provide a desirable home for some notable Napa Valley wineries.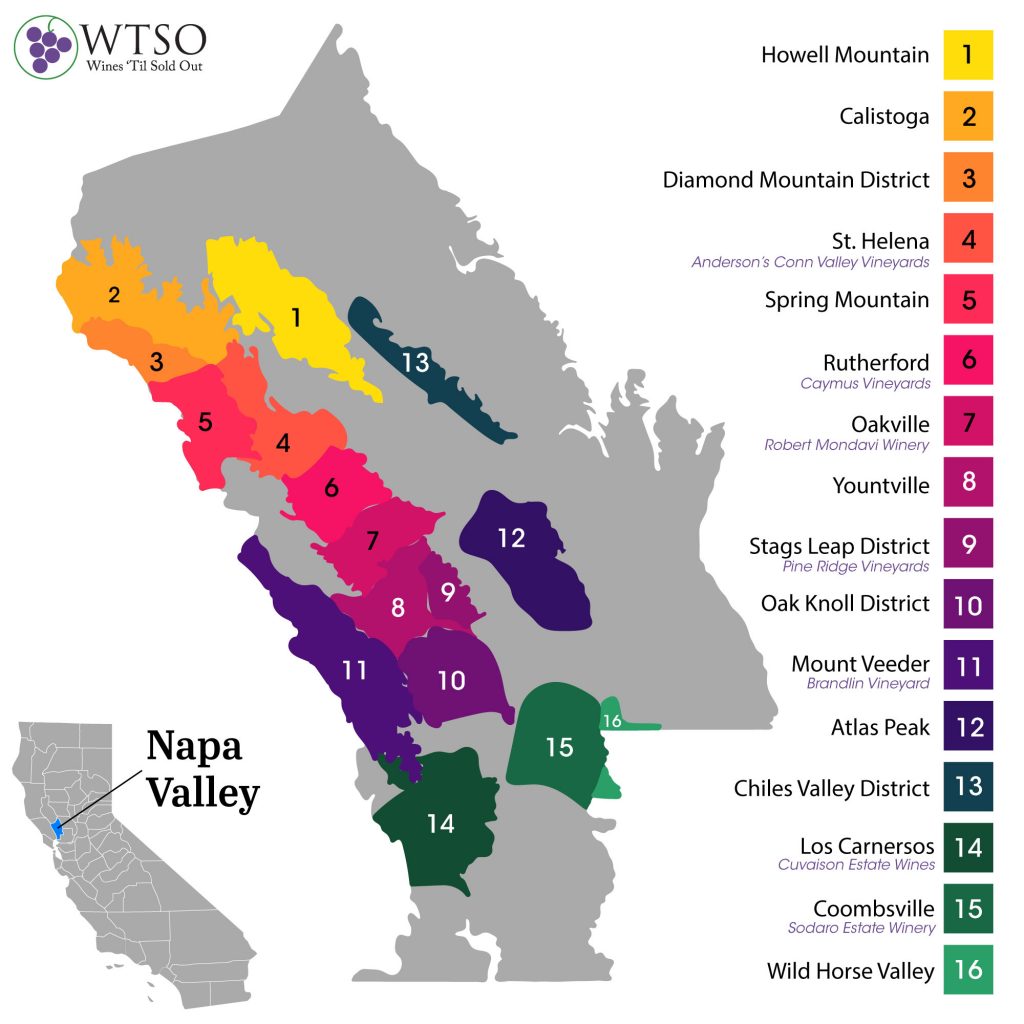 Napa Valley Wineries of Interest
Caymus Vineyards – Rutherford
Anderson's Conn Valley Vineyards – St. Helena
Pine Ridge Vineyards – Stags Leap District
Robert Mondavi Winery – Oakville
Sodaro Estate Winery – Coombsville
Cuvaison Estate Wines – Los Carneros
Brandlin Vineyard – Mount Veeder