This recipe was inspired by wine tasting during a Spain vacation. Imagine sitting in the Basque sunshine at a traditional tapas bar with a glass of wine in hand.
The delightful small bites are the perfect way to sample the Spanish culture while having afternoon drinks. Bring those thoughts through making these deviled eggs from home, combining many traditional flavors of Spain into a beautiful little morsel. Pair the zesty notes with a white blend from Rioja, like the Bodegas Nivarius Edición Limitada Rioja White 2016 from our latest Weekly Tasting set.
Ingredients:
Deviled Eggs
6 eggs
2 tbsp of mayonnaise
1 tbsp French mustard
1/4 tsp harissa paste, or to taste
Kosher salt, to taste
1/4 tsp smoked paprika
3 tbsp green olives, chopped
3 tbsp dried Spanish chorizo sausage, chopped
Shrimp Topping
2 tbsp butter
12 large shrimp, peeled and deveined
1 clove garlic
1/4 tsp salt
Chives, for garnish
Directions:
1. In a medium pot, hard boil the eggs for 8 minutes. Run under cold water to stop from cooking and peel eggs. Slice the peeled eggs vertically. Remove yolks and put into a medium bowl. Set egg whites aside.
2. Smash the yolks with the back of a fork to break them up. Add all other ingredients to the yolk and mix together until well combined. Adjust for taste, adding more salt if needed or more harissa if you desire it to be spicer.
3. Take a quart-sized sandwich bag and fill with yolk mixture. Push the filling to one corner of the bag and use scissors to snip the corner of the bag. Pipe the filling into each egg white half.
4. Prepare the shrimp by melting butter into a skillet over medium high heat. Allow the butter to begin browning. Add the shrimp and garlic and sauté together for about 4 minutes. Sprinkle with salt.
5. Assemble by placing a shrimp atop each egg half. Garnish with chives, if desired.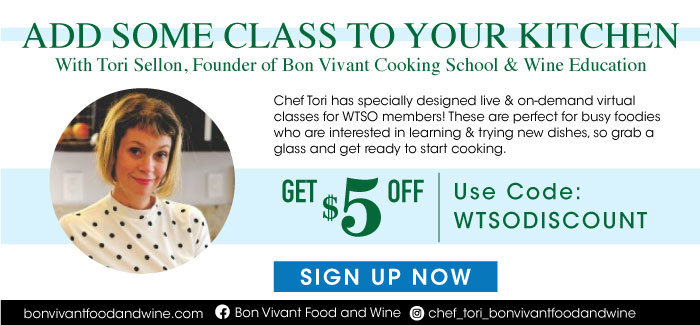 Whether it's in Spain or your backyard terrace, transport yourself through a wine tasting in our latest Weekly Tasting set, Wine, Elevated: A Taste of Northern Spain. Share with us what your favorite tapas dishes are in the comments below!