Nothing says "winter" like a delicious warm stew (paired with a bottle of wine of course)! This Pomegranate Walnut Persian Stew by Chef Tori Sellon is the perfect recipe to have you testing your cooking skills over the weekend — it should be ready to serve 4 people in about 4 hours & 30 minutes.
Pass the time while you're waiting for your meal to be ready by sipping on its perfect pairing – a glass of Beaujolais Cru. Find this must-have French Wine in our new Weekly Tasting set by Marc Supsic, A French Holiday Bouquet. And as if this didn't taste delicious enough, there is wine IN this recipe! Grab a bottle of light red wine like Pinot Noir or Grenache to complete the dish.
Enough talking, let's get to cooking & drinking:
Ingredients:
2-3 lbs bone-in chicken, legs or thighs1 large yellow onion, sliced thinly
4 tbsp butter, melted, or olive oil
2 cups walnuts, toasted
1/2 cup light red wine
1 cup pomegranate molasses
1/4 tsp cracked pepper
1/2 cup cilantro, chopped
2 garlic cloves
1/2 tsp cinnamon
1 tsp turmeric
1 tsp cumin
2 cups chicken broth or water
4 tbsp honey or maple syrup
For Rice:
2 cups Basmati rice
4 cups broth or liquid
1/2 tsp salt
1 tbsp ghee
1 tsp turmeric
1 pinch of bloomed saffron
For serving:
Spicy mayo
Sliced scallions
Sliced seaweed strips
Instructions: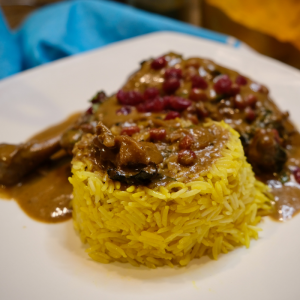 Pat the chicken skin dry. Liberally season with salt and spray the skin with cooking spray. Place chicken on a baking sheet lined with parchment paper. Lay the onion around the chicken on the baking sheet and drizzle with the melted butter, tossing to coat if necessary.
Place the baking sheet in the oven under the broiler on the top rack. Watch closely and remove pieces of chicken as they brown, as it may not occur evenly. Toss onions to ensure they are browning evenly as possible. Remove chicken and onions once they have sufficiently browned.
Place the chicken and onions in the crock pot. Save any oil or liquid remaining on the baking tray and pour it in with the chicken and onions.
Place the toasted walnuts, wine, molasses, spices and broth/water in a blender. Blend until consistency is a smooth, thick puree. Pour sauce over the chicken in the crockpot. Add a little water to the blender to loosen the rest of the sauce, and add to the crock pot.
Set crock pot on high for 4-6 hours until the meat is falling off the bone. Stir intermittently while cooking, and add water to thin sauce it it is too thick. Consistency of the sauce should resemble pancake batter.
When done, sprinkle with minced mint leaves and pomegranate seeds. Serve with saffron rice and an additional drizzle of honey.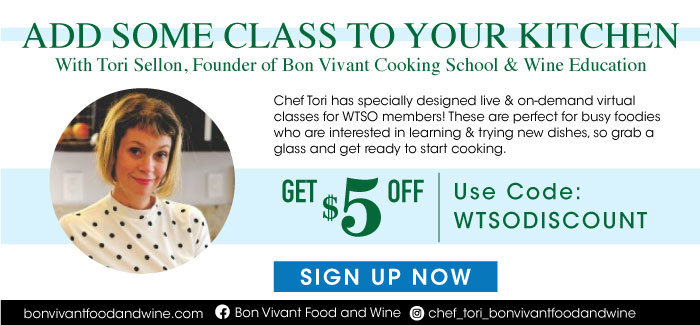 And by the end of the day, you'll have a mouth-watering seasonal meal to enjoy as you sip on some of your favorite wines. Enjoy pairing through the season with Chef Tori Sellon & WTSO!