This quick Savory Cabbage Recipe by Chef Tori Sellon from Bon Vivant Cooking & Wine Education is the perfect weeknight meal to whip up for a family of 4 in just 20 minutes.
And to treat yourself for trying this new recipe, pour out a glass of Chardonnay or other dry white wine. This dish pairs particularly well with Chardonnay from Robledo Family Winery, available in the NEW Weekly Tasting set.
Now, let's get cooking:
Ingredients: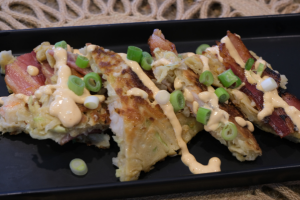 1 cup flour or cassava flour
4 large eggs, lightly beaten
1/4 tsp baking powder
1/2 tsp salt
3 tbsp soy sauce or coconut aminos
1/3 c water
1 scallion, chopped
4 cups shredded cabbage
1 tsp freshly grated ginger
12 shrimp, cooked and chopped
1 C lobster meat, chopped
2 tbsp neutral oil, such as avocado
For serving:
Spicy mayo
Sliced scallions
Sliced seaweed strips
Instructions: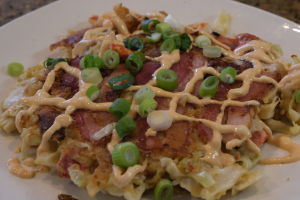 In a large mixing bowl, add the eggs. Add flour, baking powder, salt, and tamari and mix well. Then, add water slowly to achieve a nice thick batter. Sometimes a little less water is needed or up to 2/3 cup depending on the environment. Next, add the cabbage, seafood, ginger, and scallion.
Place oil in a frying pan or skillet over medium heat and allow the oil to become hot before adding the batter. Pour batter into the center of the pan and use the back of a spoon or spatula to spread it evenly. Let the pancake cook on one side for 5 minutes.
Use a large spatula, slide it under the pancake and run it under the entire pancake to make sure nothing is sticking to the pan. Quickly and confidently flip it over. Cook for another 5-7 minutes.
Drizzle with spicy mayo and garnish with sliced scallions and seaweed strips, if desired.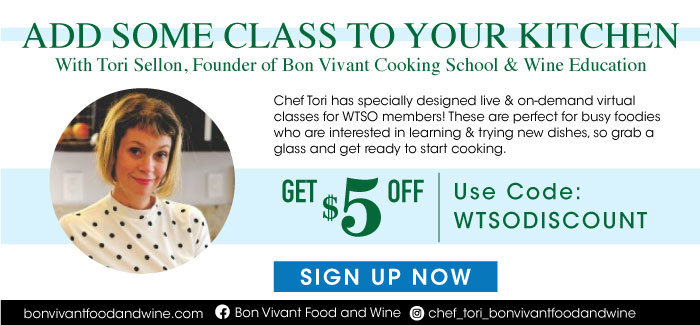 Once you have your meal, raise a glass of Chardonnay to good food and wine. Cheers!