Stock up for a stress-free season! Welcome to our most curated Holiday Collection yet.
Wine Gift Sets
WTSO is making wine gifting even simpler this year by presenting crafted tasting sets with premium pairings and accessories.
Taste Like a Wine Pro: Premium Gifts
Highly-Rated Pessac-Léognan Year-to-Year Collection
Looking for an incredible gift for the Old World wine lover in your life? For a limited time, we're offering a two-bottle vertical flight from Château Malartic-Lagravière.
From year to year, changes in Bordeaux weather during the growing season can result in vastly different wines, and this duo allows you to explore the nuances between the highly-rated 2014 and 2016 Pessac-Leognan offerings.
Iconic Duo: Caymus Cab & The Prisoner Red Blend
For the sophisticated wine drinker on your list, this luxury pack includes two iconic bottlings from some of California's most iconic producers: Caymus Vineyards and Prisoner Wine Co.

Over decades, the Wagner Family developed an iron-clad reputation for ripe and lavish Napa Valley Cabernet Sauvignon wine releases proudly represented under the Caymus Vineyards banner. Caymus's signature style helped set the benchmark for Napa Valley Cabernet.
The Prisoner is one of California's most recognized red blends. Dave Phinney, of Orin Swift fame, drew inspiration from the wines of early Italian immigrants to Napa Valley. Collaborating with premier growers to produce a unique "field blend"  proved incredibly successful.
Perfect for a fancy steak dinner or to enjoy sipping by the fire, these wines are sure to brighten anyone's holiday!
Through The Years: Crouse Vineyards Saint Veeder
A vertical tasting of three vintages from the same producer, grape variety, and vineyard source is an absolute treat – especially when the wines hail from Napa Valley's rugged, high-elevation, limited-production Mount Veeder appellation. Take advantage of a rare opportunity to taste Saint Veeder Wines' 2016, 2018, and 2019 bottlings side-by-side for an unbeatable price!
Chocolate & Wine Pairing Sets
Comparing Napa Cabernets
Wine and chocolate pairings are the perfect, fun way to expand your palate! In this exciting gift set, you'll receive one bottle each of Calla Lily's "Ultimate Red" Napa Valley Cabernet Sauvignon 2017 and Martin Ray's 2019 "Synthesis" Napa Valley Cabernet Sauvignon.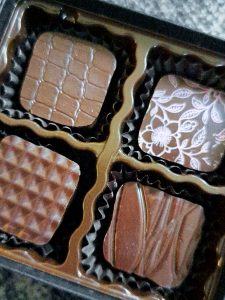 Pairings by Mecha Chocolate:
Double Dark
Raspberry
Hazelnut
Chai Ganache
This tasting gift set will delight any wine lover with a sweet tooth!
Louis Roederer Champagne
Experience the ultimate pairing of bubbles and sweets, featuring a bottle of Louis Roederer's "Collection 242". From the creators of Cristal, this Champagne pours a luminous pale gold color accentuated by persistent streams of ultra-fine, delicate bubbles. Bring the celebration to the next level this holiday season with an elegant combo of sparkling wine and artisan chocolates.
Pairings by Mecha Chocolate:
Fleur de sel
Honey thyme
Hawaiian sea salt
Lavender vanilla sea salt
Treat your family and friends to this wonderful gift pack, or indulge yourself this holiday season!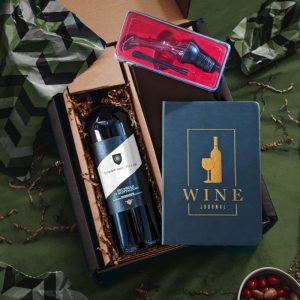 Italian Wine Enthusiast Gift Boxes
Master of Brunello
Terre del Palio signals a commitment to its regional heritage. Their 2016 Brunello di Montalcino, a traditional expression of Sangiovese, matured in large Slavonian oak barrels and French barriques to evoke a timeless style. Now available with an aerator, wine journal, and tasting notes, this gift set is the ideal choice for any lover of Italian vino from Tuscany!
This vintage shows a striking medium-garnet color in the glass. Lifted aromas and flavors of Morello cherry, plum, orange peel, sage, leather, and terracotta inform this complex red wine in which dusty tannins and lively acidity define a mouth-filling yet balanced frame. Aerate a bottle for dishes like wild boar ragu over pasta and roasted mushroom polenta.
The Perfect Pair Italian Set
For lovers of food-friendly Italian wines, you can't go wrong with robust Montepulciano d'Abruzzo and easy-going Pinot Grigio. This red and white combo pack offers you two of each – perfect for gifting this holiday season or stocking up for your next dinner party with friends and family. Take advantage of a crowd-pleasing set of four bottles.
Gift Ideas for White Wine & Sparkling Lovers
Old World v New World
Compare and contrast different styles of the same grape variety, Chardonnay. It's a great way to expand the palate!
Wines designated under the Pouilly-Fuissé appellation come from four communes: Fuissé, Solutré-Pouilly, Vergisson, and Chaintré. Through multi-generational expertise, producers continue to elevate the quality to yield rich, terroir-focused wines that represent excellent value among white Burgundy.
Santa Lucia Highlands wines are beloved for their lush silkiness and fruit-driven style. The AVA's single-vineyard bottlings focus on more nuanced expressions of individual sites. A string of highly-rated vintages since 2007 has resulted in a strong reputation and demand.
Popular Champagne: Philippe Prié
It's always practical to keep bubbly around for life's spontaneous celebratory moments! One bottle of Philippe Prie's Brut "Tradition" Champagne, an all-time WTSO member favorite, now comes with a metal ice bucket for chilling, perfect for any occasion. Stay prepared with this festive combo that also makes an excellent gift!
Curated Wine Collections
We're taking the guesswork out of the perfect wines for the holidays! Check out our curated best-sellers, conveniently packaged for you with savings up to $265 off:
Top Holiday Wine Sampler 6-Pack
Be ready for any celebration or pairing with WTSO's Holiday 6-pack of wines. It includes a bottle of Tuscan Red Blend, Napa Valley Red Wine, White Burgundy, Southern Rhone Red Blend, Sancerre Blanc, and Willamette Valley Pinot Noir. Take advantage of 67% savings for a limited time!
Classic Holiday Collection 12-Bottle Wine Case

This WTSO Holiday 12-pack of wines offers something for every occasion and taste. Receive two bottles each of Willamette Valley Pinot Noir, Loire Valley Sauvignon Blanc, Sparkling Chenin Blanc, Montepulciano d'Abruzzo, Red Bordeaux, and Dry German Riesling at a tremendous 64% discount while supplies last!
Premium Wine Club Subscription
Send a gift that keeps on giving!
Using our lifelong connections to world-class wineries, WTSO presents a monthly wine subscription. This Premium Wine Club will transport you to classic wine regions and brilliant terroirs. Expect a gift box of 2 top rated wines, offering a taste of sought-after labels.
Every gifted WTSO subscription box includes:
2 premium wines
A virtual expert-led tasting event
Special Holiday Gift Box
In the form of a digital voucher, your recipient can redeem for any wine themes they choose! Previous monthly wine subscription themes:
Best of Brunello 2016: A 5-Star Vintage
Podere la Santa Giulia Brunello di Montalcino Riserva 2016
Vigna Brunello di Montalcino Riserva DOCG 2016
Bordeaux: Generations of Legacy
Château Larrivet Haut-Brion Pessac-Léognan Red 2018
Château Langoa Barton Saint-Julien 2018
The Heart of Napa Valley: Oakville Cabernet
Groth Reserve Cabernet Sauvignon Oakville Napa Valley 2015
Oakville East Exposure Napa Valley Cabernet Sauvignon 2015
Wine Accessories
Shop gifts inspired by and made to be paired with the favorite bottles of wine lovers in your life:
Home Again Studios
Hand crafted candles using all-natural oils that are hand-poured with love in the USA.
VingardeValise
The only suitcase designed to protect your wine, this luggage brings the best versatility and style.
Gabriel Glas
Designed to deliver any varietal of wine to the palate in a manner that expresses the most subtle flavors.
Mecha Chocolate
Mecha Chocolate specializes in hand-dipped ganaches and caramels, using the highest quality chocolate with the strictest standards for fair trade and sustainability standards, as well as European butter, 40% cream and organic and local ingredients when possible.