Want to enjoy the warm breeze, sunshine, and blooming flowers? Well, don't forget about the new wines to try in some of these U.S. wine regions!
With this spring looking a little brighter than the last, many of us are probably thinking about how we can get out in the sunshine. While we still want to stay cautious, wineries often provide a distanced way to enjoy a warm breeze and a delicious wine. In this post, we'll dig into some of the best U.S. wine regions to visit in the spring. From our beloved Napa and Sonoma to our East Coast beauties, there's more wine than you may think!
A lot of wineries release new vintages in the spring, so taking the time to visit some of these spots is a great idea. Make sure to call ahead to make tasting reservations—each winery is a bit different in their availability, given the pandemic, so double-check before you go. Explore your options below!

Sonoma
Of course, California tends to be people's first thought when traveling domestically for wine. There are places to enjoy a glass no matter where you are in the state, but we're focusing on Sonoma for this piece. Why? Just look up "Sonoma in the spring," and you'll get the picture!
Some of Our Favorite Spots:
A. Rafanelli Winery
Specializing in some of the finest Merlot, Zinfandel, and Cabernet Sauvignon, this is the place to visit if you want an intimate experience with your wine.
B.R. Cohn Winery
Here you'll find some of the most scenic outdoor spaces in Sonoma Valley, along with award-winning whites and reds. Sit on their spacious patio and enjoy!
Breathless Wines
Founded by three sisters, Breathless Wines allows you to explore the world of sparkling wine. Enjoy their tastings of sparklers, a mix of sparkling and stills, or just a flight of stills.
Willamette To Walla Walla
This region may be bigger than the others on this list (spanning two states), but we thought it could make for quite a fun spring road trip! Explore the Pacific Northwest with a wine tour in Oregon and up to Washington. Both areas are making an impact on the American wine scene, which is why we suggest visiting both if you can.
Some of Our Favorite Spots:
Sleight of Hand Cellars in Walla Walla
"Serious wines without the serious attitudes"—that's what you'll find at Sleight of Hand Cellars. They strive to provide you with world-class wine with loads of fun and music. Check it out!
Domaine Drouhin in Willamette Valley
Want to celebrate spring's beauty? Then head to Domaine Drouhin, where you can look out on the beautiful Willamette Valley while you sip on their exceptional Pinot Noir. Made with "French Soul from Oregon Soil," it'll feel like you've stepped right into the French countryside.
Domaine Serene in Willamette Valley
Domaine Serene created Oregon's luxury wine industry—they produce world-class Pinot Noir and Chardonnay, but they offer many other award-winning wines as well. It's a must-visit!
Virginia's Wine Country
Virginia wine trails are becoming increasingly popular. You'll have the shores of the Atlantic on the east and the Appalachians on the west. Between them are more than 200 wineries to explore. Take your pick from the regions within: Shenandoah Valley, Blue Ridge, Central Virginia, Northern Virginia, and Southern Virginia. Whichever you choose, you're sure to enjoy it!
Some of Our Favorite Spots:
Chisholm Vineyards in Earlysville
You don't just get wine when you come to Chisholm Vineyards—you could also get jazz Sundays, the chance to get up close with goats and pigs, or the classic tasting room. It's an Adventure Farm full of spectacular wines—they've got award-winning Viogniers to try!
Glen Manor Vineyards in Front Royal
Found in the Shenandoah Valley AVA, Glen Manor has vines growing on steep slopes with a wide range of varietals. Here you can find Sauvignon Blanc, Petit Manseng, and red Bordeaux; many of their wines actually carry the names of people who dedicated themselves to the vineyard. If you're looking for sweet, try out their Raepheus dessert wine. Delicious!
Veritas Vineyards in Afton
A truly beautiful springtime experience for you, Veritas Vineyards has everything from balanced reds to spectacular sparklers. They have cheese and charcuteries boards, flatbreads, ravioli, horseback riding around the property, and so much more. A highly recommended winery in the Monticello AVA!
Michigan's Wine Country
Nicknamed by some as the "Napa of the Midwest," Michigan is an excellent choice for a spring wine getaway. After you check out the blooming tulips in Holland, make your way to one of Michigan's five American Viticultural Areas (AVAs): Fennville, Lake Michigan Shore, Leelanau Peninsula, Old Mission Peninsula, and Tip of the Mitt. Michigan is almost as stunning in the spring as the wine it produces!
Some of Our Favorite Spots:
Black Star Farms in Traverse City
It may not be as luxurious as some of the other chateaus in Michigan, but it absolutely makes up for that with its stellar wines, two wineries, three tasting rooms, horse stables and trails, a café, an inn, and more. It's an entire experience!
Brys Estate Vineyard and Winery in Old Mission Peninsula
If you're looking for quality red wine in Michigan, this is the place to go. With exquisite views on the peninsula, a new Upper Deck that overlooks the vineyard and East Bay, and a garden of lavender, flowers, strawberries, and herbs, this is another Michigan winery that offers more than just its wine.
L. Mawby Vineyards in Leelanau Peninsula
You'll find sparkling wines galore at L. Mawby Vineyards. Most sparklers are made using the traditional Champagne method, but some of their more affordable bubbles are produced by the Charmat method. Reserve a spot on the patio, and enjoy a glass (or a few) with your friends!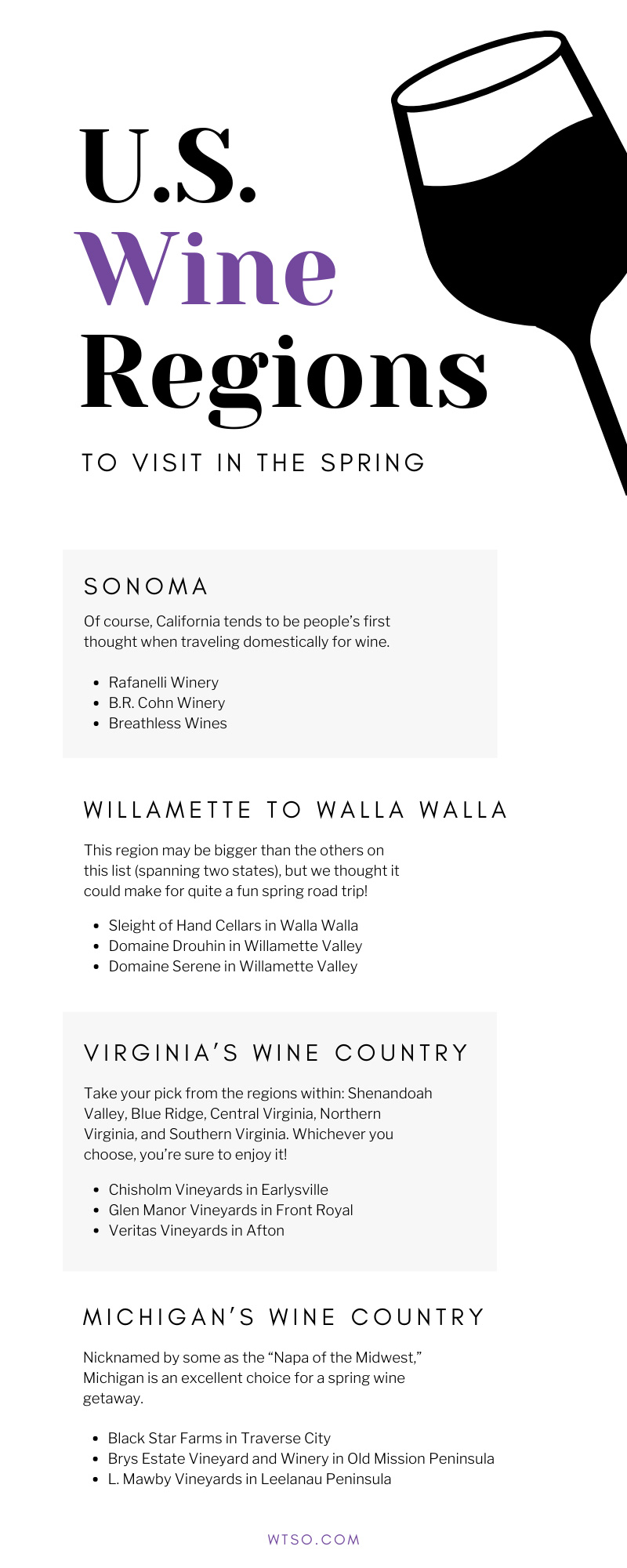 There you have it! A few of our favorite U.S. wine regions to visit in the spring. As wine in the states continues to grow, you'll find more and more wine regions around you. Even now, Texas, Colorado, Missouri, and New York are expanding and refining their wine options.
Until you're able to visit these wineries in person, feel free to quench your thirst for your favorite vintages with Wines 'Til Sold Out. When you visit our site, you can order sparkling wine online and participate in the excitement of bubbles that L. Mawby does so well. Or you can channel Domaine Serene and opt for some rich red wines. The options are endless when you partner with us. Take a look!