It's the time of year to turn off the lights, grab a friend, and watch your favorite scary movies. To make your viewing experience even better, we've put together a list of the best popcorn and wine pairings for some of our favorite scary movies. So grab a glass, a bag of your favorite popcorn, and a blanket to cover your eyes, because you're in for a deliciously spooky night!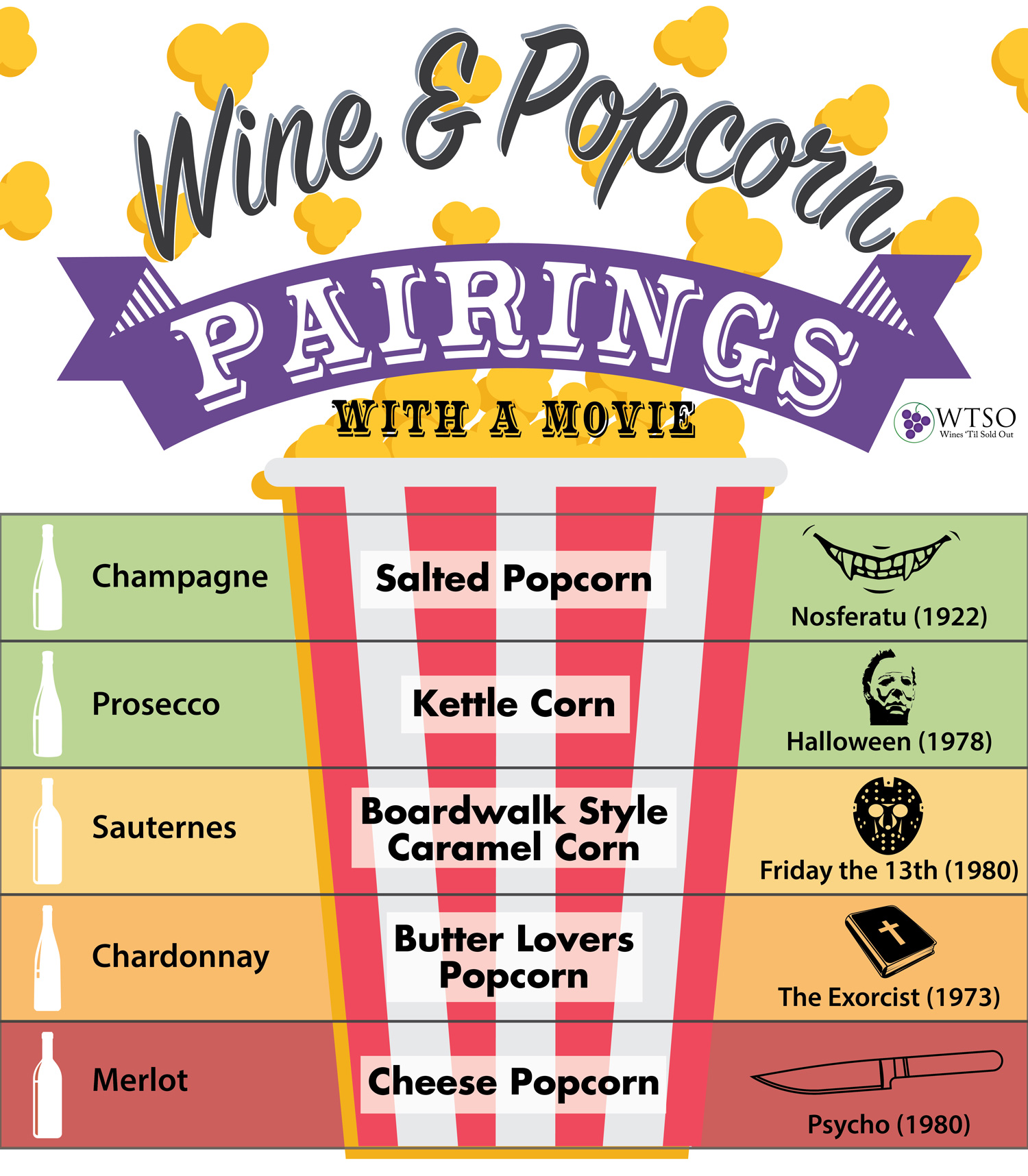 Salted Popcorn
This classic popcorn pairs beautifully with Champagne. If you haven't tried it, you're missing out. Champagne and salted popcorn are a perfect pair! The saltiness balances the yeasty flavors of a traditional Champagne. We suggest enjoying this classic pairing with a horror movie classic, Nosferatu. If you haven't seen it, don't let the lack of dialogue turn you away; this silent movie will leave you on the edge of your set (hopefully not spilling the bowl of popcorn)!
Butter Lovers Popcorn
Chardonnay's buttery characteristics will shine when paired with buttered popcorn. If you always ask for extra-butter at the concession stand, this is the pairing for you! To enhance the theater-feel we recommend watching The Exorcist. This perennial favorite, paired with the buttery popcorn and chardonnay, will create the best kind of theater – one where you don't have to wear shoes!
Boardwalk Style Caramel Corn
The caramel flavor of this popcorn choice pairs well with the sweetness of a Sauternes. The Sauternes honey, nutty quality mix well with the caramel crunch of the popcorn. We recommend enjoying this pairing with everyone's favorite summer camp slasher, Jason Voorhees, in the original Friday the 13th.  
Cheese Popcorn
You may call us crazy, but we love to snack on cheese popcorn with a glass of Merlot. The smoothness of the Merlot is the ideal wine to enjoy with cheddar cheese popcorn. Just try to keep your cheesy fingers from covering your eyes as you scream your way through Norman Bates' antics in Psycho.
Kettle Corn
The light sweetness of Prosecco is brought to the forefront when enjoyed with kettle corn. Whether fresh or from the bag, the combination of the sweet and salty popcorn and the crisp apple sweetness of the Prosecco will be your instant fall classic. Pop a bottle of the Itialian bubbly and a bag of kettle corn before you settle in to watch Michael Myers stalk the streets of Haddonfield in Halloween.
*Originally published 10/28/16