For anyone skeptical of Burgundy's capacity to offer consistent wine value, look no further than the sun-kissed, limestone-rich soils of Pouilly-Fuissé. Here, Pierre-Emmanuel Sangouard and his wife Catherine (née Guyot) build upon wine-making legacies dating back more than 150 years. With bottles recently catching the attention of top critics and savvy enthusiasts, we felt their story deserved a spotlight. Read on to become better acquainted with the passion and dedication behind Domaine Sangouard-Guyot.
The Domaine
The grandiose Roche de Vergisson, its panorama of sloping vineyards, and open countryside skyline make for an impressive sight when standing at Domaine Sangouard-Guyot's entrance. Pierre-Emmanuel assumed control of his grandfather's estate in 1997, which merged with Catherine's parents' estate several years later. Each of them represents the fifth generation in the wine business. Today, they grow Chardonnay on 12 hectares, most of which lie in Pouilly-Fuissé, with smaller holdings located in other appellations of the Mâconnais region. 
Viticultural Philosophy & Terroir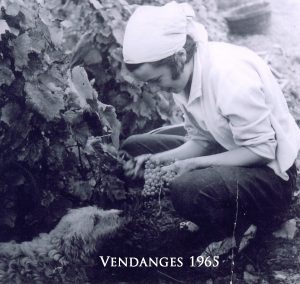 With environmental concerns in mind, the domaine plans ahead to minimize spraying treatments. The soil receives greater aeration by plowing vines while making vital nutrients more accessible for root systems. Careful vine pruning improves air circulation and sun exposure in the vineyards, leading to higher rates of photosynthesis and grape ripening. All grapes are harvested by hand to select only the best in quality. Among the estate's 34 individual plots, vineyards between the Roche de Vergisson and Roche de Solutré benefit from a south and southeast exposure, maximizing sunlight and warmth for the vines. Chardonnay thrives on the clay-limestone soils here to become distinctive bright, mineral-driven wines.
Wine Production
Domaine Sangouard-Guyot believes, "The diversity of our terroir dictates that we vinify every single parcel according to its character." The grapes' slow, gentle pressing ensures juice with desirable aroma, flavor, and color compounds. Depending on the individual wine, vinification may occur in thermo-regulated tanks, old barrels, or younger barrels after brief exposure to oxygen. Some wines undergo a period of lees aging and stirring before bottling, imparting a rounder, more opulent mouthfeel. 
Featured Wines
Pouilly-Fuissé "Authentique"
Sourced from the La Roche plot on Vergisson, this cuvée is vinified in low-temperature thermo-regulated tanks to preserve its fresh varietal character and sense of place through mineral inflections. It's a crisp, floral, and elegant white wine that delivers the pure, classic side of Pouilly-Fuissé. (Save to your Cellar)
Pouilly-Fuissé "Ancestral"
Produced from 50-year-old Ronchevat and En Carmentrant plots using the traditional methods of Pierre-Emmanuel's ancestors, this bottling sees fermentation in barrels between 3 and 5 years of age. Weekly lees stirring gives a full, rich texture while limiting the level of oak extraction and providing better stability to the wine. (Save to your Cellar)
Pouilly-Fuissé "Quintessence"
Grapes from Le Clos des Croux and Pommard plots, 45 years in age, are barrel fermented in 1/3 new oak before weekly lees stirring over ten months. Round like the Ancestral bottling, but with more toasty characteristics, the domaine recommends allowing this wine to develop in the cellar. (Save to your Cellar)
Pouilly-Fuissé "Terroirs" 
This blend from the various parcels of Terres du Perray, La Folle, En France, Le Repostere, and Les Vignes Dessus is fermented and aged in both tank and older barrels. With its fresh fruit and mineral qualities and a refined mouthfeel, the resulting wine can be enjoyed soon after release. (Save to your Cellar)
Now that you have the inside track on affordable white Burgundy, don't forget to peruse the other fantastic discount wine deals available on Wines 'Til Sold Out!