The splendor and longevity of Brunello di Montalcino delivers some of its most terroir-driven expressions in the wines of San Polino, a consistent favorite producer among WTSO's offerings. This revived centuries-old Tuscan estate champions organic farming and expands upon biodynamic principles to produce extraordinary Sangiovese Grosso for only four bottlings. Whether you're already enamored with Italian red wines or looking to expand your palate, there's no better time than now to immerse yourself in the background of San Polino.
Their Story
Evidence suggests that the San Polino farmstead could have origins dating back to the 10th century – a likely time for the first vine plantings there. By 1581, the Montalcino hospital, Santa Maria della Croce, logged an official record of land under their ownership, including the vineyard and olive trees of San Polino. Eventually, the noble Piccolomini family purchased the property in the 18th century. Then in 1990, husband and wife Luigi Fabbro and Katia Nussbaum bought the estate with the primary goal of establishing a self-sustained winery and olive oil business. After acquiring permission to cultivate vineyards for Brunello and Rosso di Montalcino, they achieved organic certification in 1994, becoming pioneers in Montalcino. By embracing a holistic approach to viticulture, they aim to "respect, encourage, and restore our biodiversity in the vineyard," leading to impressively pure and elegant wines with a clear sense of place. 
Philosophy and Terroir
"At San Polino, we believe that all life on this planet is linked by a single thread, forming a myriad of wondrous interconnections which encompass all of us." – Azienda Agraria San Polino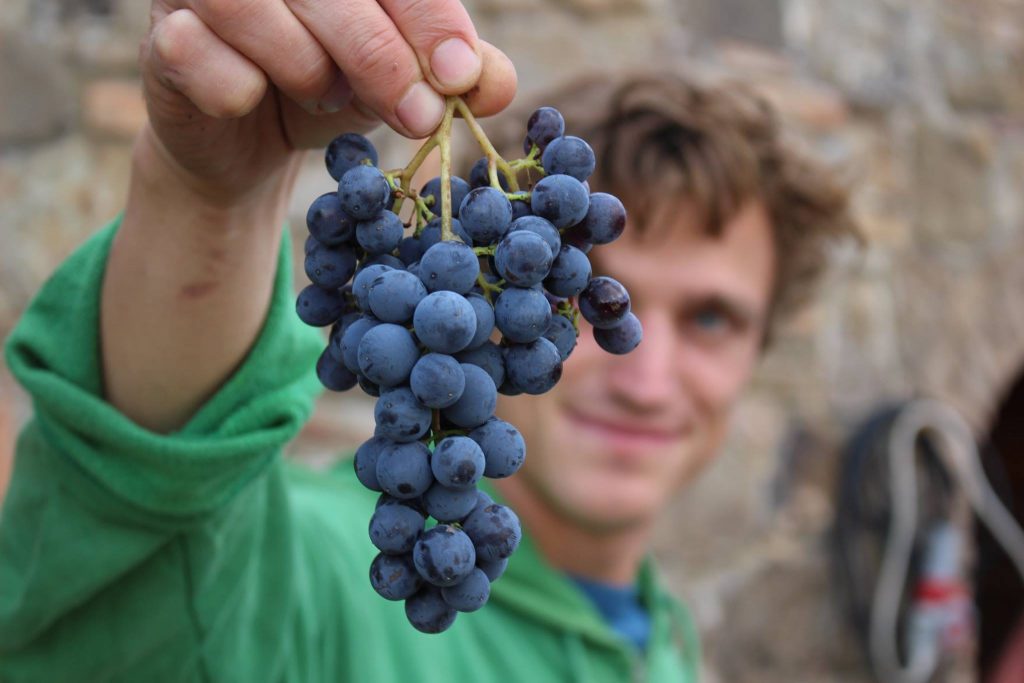 This perspective considers and values the relationships between all the workers, animals, plants, insects, importers, and consumers of San Polino's wines. Furthermore, they believe that a wine's overall "balance, harmony, structure, and elegance" reflects the "balance, richness, and harmony" found within the various complex ecosystems involved during production. Their vineyards remain free of pesticides, herbicides, or fungicides. Luigi and Katia also draw on extensive experience for scholarly writings and promote new research at their estate by experts in geology, botany, entomology, ornithology, and yeast.
Varied proportions of limey shale, clay, sandy loam, mineral rocks appear throughout the vineyards, planted at an altitude between 300 and 450 meters to just 8 hectares of Sangiovese. The team also maintains that "each soil type and altitude tells its story in the characteristics and personality of the grapes and wine."
The Wines
Rosso di Montalcino
The Rosso di Montalcino sees a spontaneous fermentation with indigenous yeast in a combination of stainless steel and tronconic oak vats. Aging occurs for a minimum of one year, with at least six months in oak before bottling. This release provides a more youthful taste of the estate's Sangiovese and a preview of the grape quality from each growing season while the Brunello wines undergo a more extended maturation period. Expect a floral, fruit-driven red complemented by subtle spice and mineral notes, as well as the structure for versatile pairings.
Brunello di Montalcino
A sloping, well-exposed field on loamy clay and marl in northern Montalcino serves as the source for San Polino's classic Brunello bottling. After a spontaneous fermentation with indigenous yeast in tronconic oak vats, the wine matures in Slavonian oak barrels for about three and a half years. This full-bodied, opulent red often receives high accolades from top critics, including a 99-point rating by James Suckling for the 2010 vintage. The very best can improve in a cool, dark cellar for many years.
Brunello di Montalcino "Helichrysum"
Their low-production bottling takes its name from a fragrant flowering plant and features Sangiovese from San Polino's highest elevation, south-facing site. Following its fermentation, this red undergoes six months of lees stirring in French barriques before being transferred to larger Slavonian oak barrels for three more years of aging. A perfect blend of richness and elegance define the "Helichrysum," a Brunello that consistently garners scores in the high 90s as well as an amazing 100-point rating by James Suckling for the 2010 release. The wine's seamless structure promises immense pleasure and further complexity for years to come. 
Brunello di Montalcino Riserva
San Polino only produces their Brunello di Montalcino Riserva in the absolute best years. A 50-day post-fermentation maceration precedes six months of aging in French barrique and another four years in Slavonian oak barrels. Once finished, these unparalleled wines represent the most profound and powerful expression of the estate's gorgeous fruit, along with the endurance to revisit bottles throughout their slow and graceful development. Simply put, this rare release offers a transcendent experience through Sangiovese. [2012 available here]
Look for the deepest discounts on San Polino's outstanding wines and other collectible bottles with free shipping options on WTSO.com!