While France has a long history with wine, Beaujolais vines in particular have been traced back as far back as Roman times. In 1936, the appellations were created to establish a hierarchy here. Bottles designated under any of the 10 Crus of Beaujolais appellations must be produced principally from Gamay grapes. And did you know? 98% of Beaujolais production is red wine. 
Each Cru has unique features that make its wines distinct and worth exploring. Let's dive into what makes them unique!
Juliénas
This area takes its name from Julius Caesar and is a site with diverse terroir that may include granite, volcanic rock, or clay. The wines tend to display enough depth and fleshiness to often make them suitable for short-term aging.
Chénas
Of all 10 Crus of Beaujolais, it's the smallest cru and was named after the oak forests that at one time were a prominent feature of its hillsides. Grown on soils comprised of granite, schist, and clay, the best wines of the area are great for cellaring. Try aging them for a decade or longer.
Chiroubles
Another small cru, here the vines are planted on granitic sandy soils and contains some of the highest elevation vineyards in the region. Its wines are characteristically "Beaujolais" in style. Most are intended for early drinking and often described as light and perfumed.
Régnié
As the youngest cru, it has been successfully promoted from Beaujolais-Villages status after winemakers spent years pleading their case. While the history of viticulture on the pink granite terrain stretches back 2,000 years, most wines are best enjoyed young and fresh.
Brouilly
Brouilly is the largest of the 10 crus and Mont Brouilly defines the local geography. Grapes are grown on varied soil types and the wines typically offer a bit more weight with an emphasis on ripe fruit.
Saint-Amour
A cru with a reputation for softer, fruit-driven wines, often designed to drink early. Though, the very best bottles can keep for up to five years. This is the most northern cru and contains soils with a mix of granite, clay, schist, and limestone.
Moulin-à-Vent
Here, you'll find some of the firmest and longest-lived Beaujolais. The pink granite and manganese soil composition here helps limit grape yields. This results in more concentrated wines that may develop a Burgundian character over time. The cru takes its name from a windmill near the vineyards.
Fleurie
Often referred to as "The Queen of Beaujolais," the wines showcase lush red fruit and floral notes along with a signature silkiness. Soils composed primarily of pink granite dominate the landscape here.
Morgon
Known for deeply colored, fuller styles of wine, they may be compared to red Burgundy as they mature. Granite, schist, clay, and volcanic rock soils are found throughout the cru and in many of the vineyards. The most celebrated of which is a hillside named Côte du Py.
Côte de Brouilly
A smaller cru, this one sits at a higher elevation on the slopes of Mont Brouilly. When compared to the cru of Brouilly, the soils here are more consistent in their make up of schist, blue stone, and volcanic rock. The wines tend to have fine definition, structure, and floral qualities.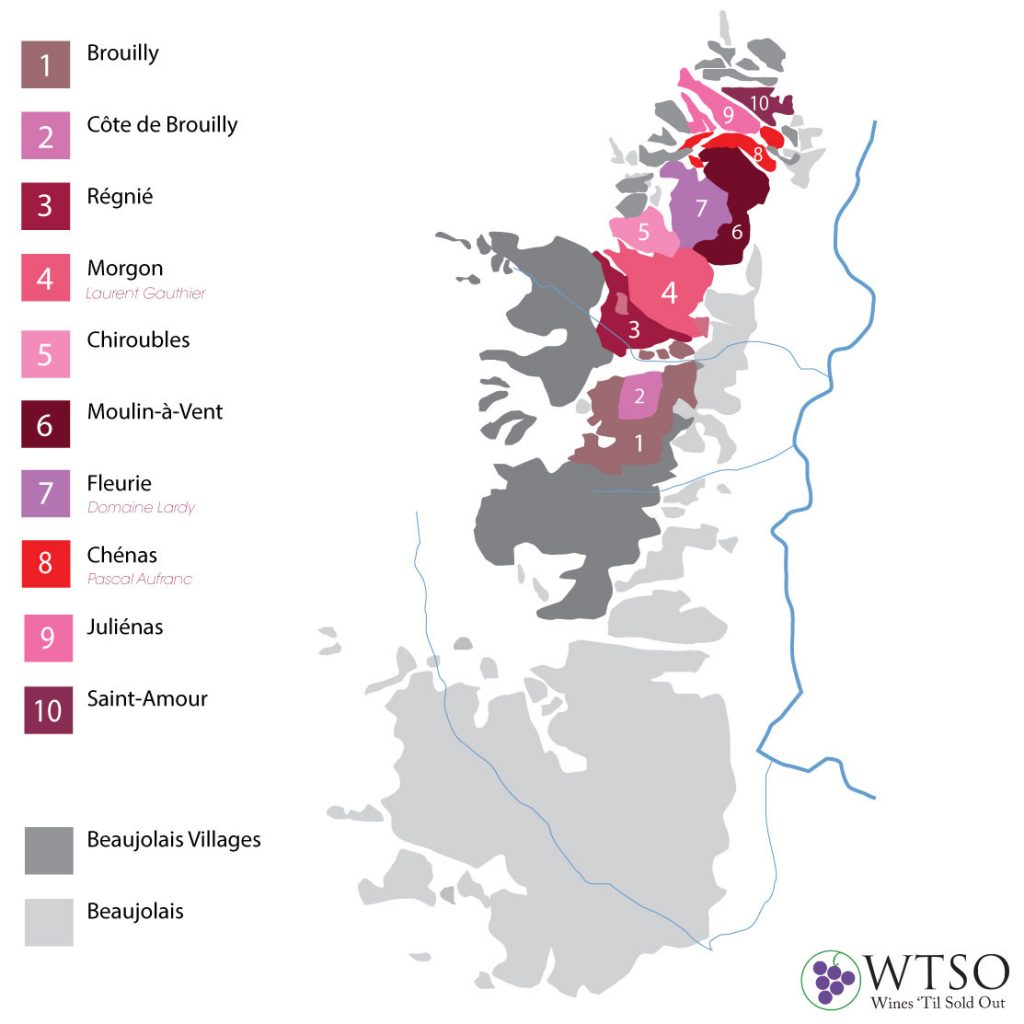 Now that you've learned more about the terroir among the 10 Crus of Beaujolais, you're ready to start tasting some of these wonderful French wines. Find a great variety from our top-rated red wines on our Premium Selection or Last Chance pages.