The Iberian peninsula, containing both Spain and Portugal, features some of the warmest and most arid landscapes in Europe. One might almost mistake the high plateau in central Spain for New Mexico if not for the ancient castles and Roman aqueducts. Climates like this are justly renowned for their red wines, but Spanish and Portuguese whites are also worthy of attention and enjoyment. From Basque country near the French border to the riversides of Portugal, you'll find great selections to refresh your palate and add excitement to your cellar.  
Albariño
This grape from the northwestern Spanish region of Rias Baixas is among the most prestigious in Spain, though it's still underappreciated in the United States. Rias Baixas was known internationally for its wines during the sixteenth and seventeenth centuries, but by the twentieth, it had largely abandoned its heritage and began producing bulk wines. Only in the past few decades have native grapes like Albariño been rediscovered and regained their status around the world. Albariño's dry, aromatic style and citrusy stone fruit flavors make it a great choice as an aperitif or with seafood.
Viura
Also known as "Macabeo" in Catalonia, where it's used as a blending grape in Cava, Viura produces a clean, fresh wine similar to Sauvignon Blanc without the green notes. It is found throughout Spain – almost always in a clean, unoaked style – but is perhaps best known in Rioja where it is made into relatively age-worthy, oaked wines reminiscent of California Chardonnay. You may find Viura blended with other grapes in wines that offer great value and enjoyment.

Verdejo
Aside from Albariño, Verdejo seems to be among the most prevalent Spanish grapes sold in the United States as a varietal. Look for bottles from the area of Rueda, where Verdejo is treasured as a local viticultural treasure. You'll find exotic and varied citrus flavors, including lemon, lime, blood orange, and tangerine, along with notes of pineapple and papaya. These characteristics make it a great choice for Latin-inspired dishes featuring fruit, like pork with mango salsa.
Txakolina
Pronounced "choc-oh-LEE-nah," the name of this wine comes from the Basque language in northern Spain, where native grapes go along with the unique language and culture. The primary grape in white Txakolina is Hondarribi Zuri, which is seldom found outside of its Basque homeland and contributes a unique flavor the wine of tart citrus with a hint of minerality and herbs. Txakolina is sometimes bottled with a faint effervescence, so don't be surprised if there are a few bubbles when you pour your first glass.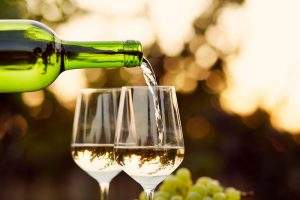 Vinho Verde
Vinho Verde, or "green wine" in Portuguese, comes from the northernmost part of the country right on the border of Spain near the heartland of Albariño. It's made from a variety of local grapes, and its name may be a reference to the relatively verdant climate in the area or the green hue of the grapes themselves when harvested. Vinho Verde makes for a good alternative to both traditional white wines and sparkling wines, since it's usually slightly sparkling itself. Its smooth, unassuming character allows it to pair wonderfully with mild shellfish or vegetable dishes that might be covered up by stronger wines. Normally dry and low in alcohol with orchard fruit flavors, it makes a good gift for lovers of wines like Pinot Grigio.
As the weather warms, you'll now be prepared to explore the lighter side of the wines from the Iberian peninsula. Let us know which foods you pair with them and which you like best.