Summer is here! It may not look the exact way you planned, but that doesn't mean you can't safely enjoy the sunshine, fresh air, and time with loved ones. As long as you follow your state's pandemic orders, there are quite a few romantic ways to enjoy the summer season with your significant other. Here are some of our favorite summer date ideas for every wine lover; grab a bottle, grab your love, and enjoy the season!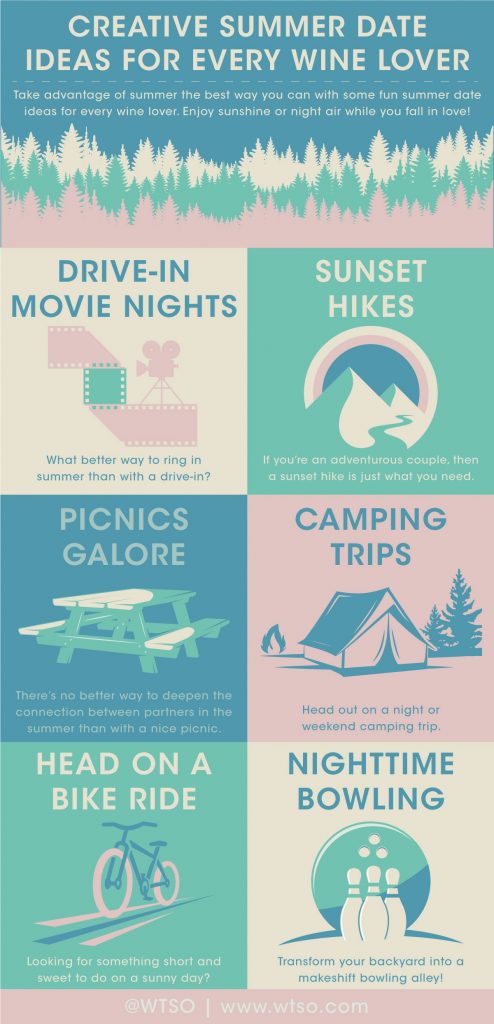 Drive-Ins or Backyard Movie Nights
What better way to ring in summer than with a drive-in? If your local drive-in isn't open, you can set up a backyard movie night! Either way, set the scene with your favorite bottle of wine, and enjoy cozying up in the summer night air. It's an easy date idea that you can repeat throughout the summer.
Sunset Hikes
If you're an adventurous couple, then a sunset hike is just what you need. Find a trail that leads you to a great view, and enjoy the time together out in nature. We love the idea of bringing some snack essentials along with you so that you can sit, rest, sip, and enjoy the sunshine together. It's one of our favorite summer dates ideas for wine lovers—make it a weekly tradition!
Picnics Galore
Speaking of picnics, we truly believe there's no better way to deepen the connection between partners in the summer than with a nice picnic. Grab a blanket, some of your favorite picnic foods (berries and cheese, or maybe even a quiche!), and a chilled bottle of vino, and head out for a lazy day in the shade. Make sure you both try to really enjoy this one—leave technology at home, and embrace the time with one another.
Camping Trips
Lots of state and national parks are opening back up—take advantage by heading out on a night or weekend camping trip. Whether you have an RV or are popping up a tent, camping trips are another lovely way to enjoy nature and spend quality time with your partner. Make sure you follow safety precautions—if you've never camped before, don't just go in blind!
Head on a Bike Ride
Looking for something short and sweet to do on a suddenly sunny day? Head out on a bike ride! It's just as calming as a walk, but you can head out farther and reach some stunning destinations. You could even ride your bikes to the beach and enjoy a picnic on the sand! Don't underestimate the joyful feeling a good bike ride can bring.
Nighttime Bowling
Bowling alleys may not be open, but that doesn't mean you can't get a strike. Transform your backyard into a makeshift bowling alley—put glowsticks into full water bottles and set them up. Then, grab a ball, some chilled wine, and a great playlist, and enjoy! You won't have to deal with waiting in line or sharing dirty shoes. You'll just get to enjoy the time together with the fireflies!
These are just a few of the many ways you can enjoy some time together with your wine-loving significant other. Make it a celebration by ordering sparkling wine online with Wines 'Til Sold Out. Order your favorites or try some new vintages, and we'll send them directly to your home. Shop now!