Americans have a unique relationship with Rosé. We drink it in vast quantities but stereotype it as sweet and cheap – not taking it as seriously as either reds or whites. Rosé is more appreciated in Europe where it's consumed by a wider audience of wine lovers. Why not take some time to explore the wide array of Rosés available from around the world and see how it can find a place in your cellar and cuisine? For technical details on how Rosé is made, see our previous post on the subject. This post will present some of my favorite Rosé from around the globe to showcase the variety and excellence of these pink wines.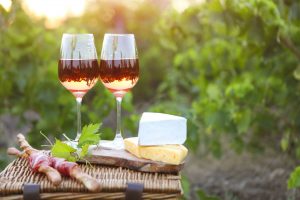 Provence Rosé
The region of Provence in the South of France is one of the few in the world that is known almost exclusively for its Rosé wines – and with good reason. The vineyards in Provence are among the sunniest in Europe and benefit from cooling Mediterranean breezes and generations of winemaking expertise. These wines are blended from a mix of red grapes similar to those found in the Rhône Valley like Grenache, Syrah, and Mourvèdre, but they are normally quite delicate and appeal to white wine lovers who like berry and spice flavors in their wine. Provence Rosé is among my favorite wines with shrimp.
Côtes du Rhône Rosé
This appellation in the Rhône valley produces reliably delicious wines for great values made primarily from Grenache with other grapes like Syrah. Most Côtes du Rhône is red, but the Rosés offer deep, almost ruby color and succulent flavors of plum and watermelon. These Rosés add a refreshing elegance to poultry dishes like roasted chicken or turkey.

Rosé de Anjou
The area of Anjou is in the Loire Valley in central France. Their famous Rosés are made from a local grape called "Grolleau Noir," which is often blended with one or more of the following: Cabernet Franc, Cabernet Sauvignon, Malbec, Gamay, Pineau d'Aunis, and Grolleau Gris. Rosé D'Anjou is delightfully soft and fruity but dry with melon and ripe strawberry notes. These wines are so soft and smooth that they are great for drinking on their own before meals or on the patio.
Bolgheri Rosato
"Rosato," the Italian term for Rosé, is made throughout the country, but it hasn't gained the notoriety of the famous Italian red or white wines. Some of my favorite Italian pink wine comes from the Tuscan coastal area of Bolgheri, where the so-called "Super Tuscan" wines are produced. These wines are normally made from Sangiovese blended with the traditional Bordeaux grapes like Cabernet and Merlot.
Napa Valley Cabernet Sauvignon Rosé
Cabernet from Napa Valley is among the world's most iconic wines and is renowned for its deep, dark color and gripping tannins. You might be surprised to find that it can also come in Rosé form as an elegant, refreshing beverage with delicate flavors of ripe cherry, rose petal and strawberry. I like to serve Cabernet Rosé in the same meal as its red counterpart; serve the Rosé with appetizers and the red version with the entree.

Oregon Pinot Noir Rosé
The Pinot Noir grape is notoriously difficult to grow, but it seems to have found a home in Oregon, where the climate reliably produces beautiful harvests. While most are sold as red wine, Pinot Noir Rosés offer a unique perspective on the grape, with pale pink colors and flavors of tart raspberry, red cherry, and a faint earthiness. Oregon Pinot Rosé is a natural fit with one of the region's iconic dishes: salmon.
Stellenbosch Pinotage Rosé
South Africa has some of the oldest continually operating vineyards in the world, as they were able to avoid the devastation Europe faced during the world wars. They've not only produced amazing wines for centuries, but they have also created their own unique varieties like Pinotage: a cross between Pinot Noir and Cinsault. It maintains the fresh, friendly fruitiness of Pinot Noir but with a fuller body and slight smokiness that makes it a good pairing with foods cooked over a flame. I'd pair the Rosé form of Pinotage with grilled chicken or tuna.
Barossa Valley Shiraz Rosé
Another example of Rosé made from an iconic red wine, Shiraz Rosé from Barossa Valley is a creative twist on a favorite wine. The juicy, jammy notes of Shiraz are transformed into lighter, more delicate notes of cherry, lemon, and raspberry candy. All of these flavors, however, accompany a light body and dry finish leading to a unique overall experience. Pair this wine with barbecued chicken wings or shrimp in cream sauce.
Mencia Rosado
The Bierzo region in Spain is home to a little-known local grape called "Mencia" that offers a medium-to-full body and mouth-filling fruit flavors with a tinge of spice. Bierzo is only now beginning to find its way onto the radar of many wine lovers, and the Rosé version is even rarer. Bringing a bottle of this exotic Rosé to a party or giving it as a gift will help to establish your reputation as a savvy wine lover.
Tavel Rosé
Perhaps the most highly regarded Rosés are found in a small region called "Tavel" in southern France. They are relatively full bodied, intense, and able to stand up to rich cuisine like lobster or roasted pork. These wines, like those from Provence and Côtes du Rhône, are blended from grapes including Grenache and Syrah, among others. Tavel makes a great dinner wine for special occasions or a great gift for those who love Rosé.
Now that you have some Rosé suggestions, you can begin your journey around the world of pink wine. Enjoy!