There are many excellent sweet wines for beginners, such as Moscato and Sauternes. Discover the best high-quality white wine to try if you like dessert wine.
If your first sip of wine did not taste the way you expected, you're not alone. Though it comes from grapes, that beautiful beverage is nothing like grape juice. Still, different wines appeal to different palates. While some wine connoisseurs enjoy dry wines, others prefer lighter, sweeter ones. Popular varieties, such as Ports, are good choices for red wine lovers, but white wine is the way to go if you're looking for excellent sweet wines for beginners.
Pop a Bottle of Riesling
Riesling is a German wine that can be dry or sweet. Be sure to double-check with your waiter or read the label if you want the sweet or semi-sweet variety. Light and citrusy, this white wine often comes sparkling, sweetened with apples, peaches, pears, and apricots.
Pro Tip: If you want your Riesling especially sweet, go for a Late Harvest bottle—these will satisfy any sweet tooth!
Have a Moscato d'Asti
Moscato is an excellent sweet wine for beginners as it is a dessert wine. Winemakers flavor this Italian variety with apricots and almonds, as well as peach or other fruity flavors, on occasion. It's slightly fizzy and undoubtedly the sweetest wine.
Get a Glass of Sauternes
Sauternes comes from late-harvest Sémillon wine grapes affected by noble rot. Noble rot is a type of fungus present only in certain climates that shrivels grapes. Winemakers have only been producing wine from rotten grapes since the 17th century. Nowadays, one typically serves Sauternes with dessert fruits and cheeses. It tastes like butterscotch, caramel, mango, and marmalade, with touches of citrus and ginger. Try one like Château Romer du Hayot 2014 Sauternes, an estate that has offered this syrupy, golden wine since 1851. 
Drink Demi-Sec Champagne
If you want more than a little fizz, choose a sparkling wine. Demi-Sec Champagne has between 32 and 50 grams of sugar. It is the highest sweetest level next to Champagne Doux, which is any sparkling wine with more than 50 grams of sugar. True champagne comes from its namesake region in France and uses a blend of wine grapes, such as Pinot Noir and Chardonnay.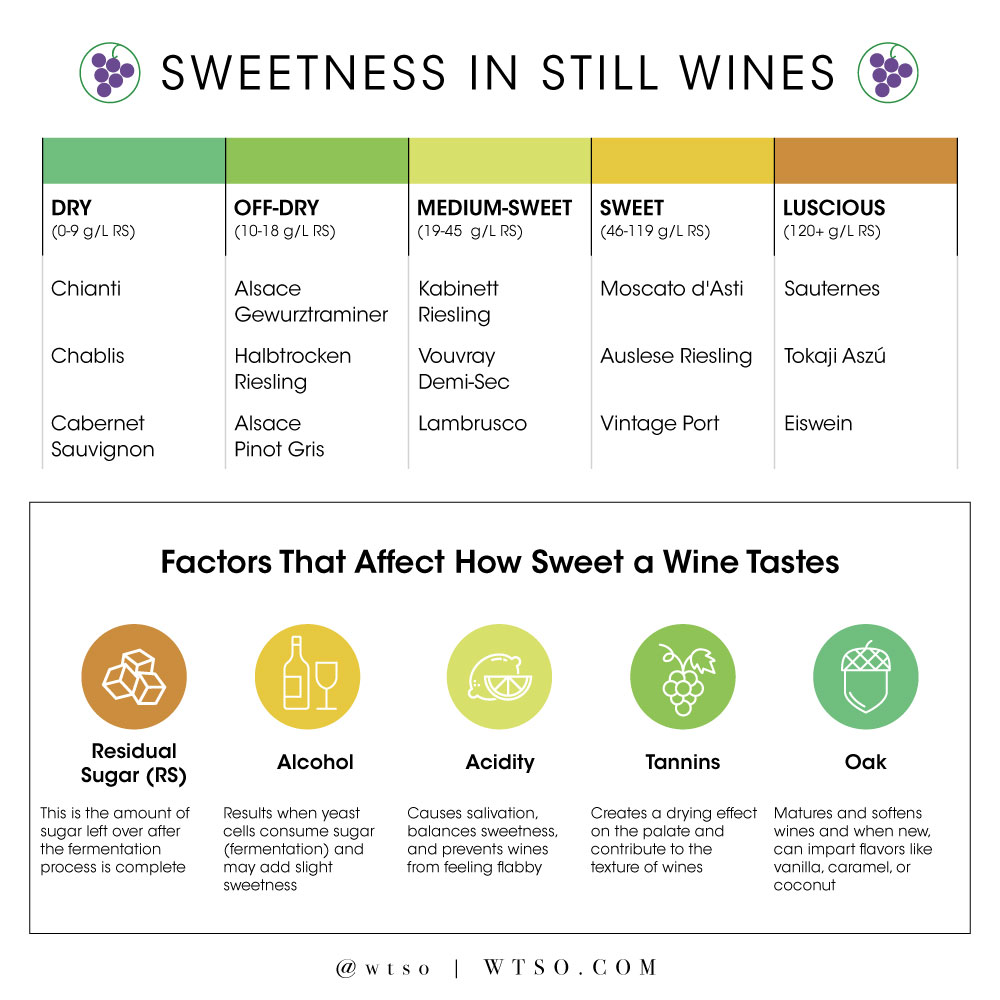 If you are kick-starting your journey into the world of wine and would like to try something sweet, we have a wealth of high-quality white wine for you to try. Whether you prefer it still or sparkling, all are excellent sweet wines for beginners that will make you feel like a wine connoisseur.