Blog Title: Get The Bonuses – Without The Bills

At WTSO, we put you first. All members are promised 100% satisfaction, a genuine relationship with our team, exclusive offers, and free shipping with minimum purchase – plus, you'll never have to pay any membership fees to enjoy each and every perk of buying from us.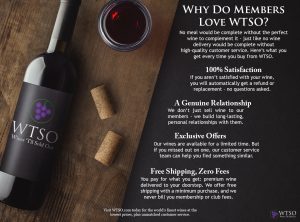 Want to learn more? Give the WTSO customer service team a call! We love hearing from our members, no matter the reason.


Why Do Members Love WTSO?
No meal would be complete without the perfect wine to complement it – just like no wine delivery would be complete without high-quality customer service. Here's what you get every time you buy from WTSO.
100% Satisfaction
If you aren't satisfied with your wine, you will automatically get a refund or replacement – no questions asked.
A Genuine Relationship
We don't just sell wine to our members – we build long-lasting, personal relationships with them.
Exclusive Offers
Our wines are available for a limited time. But if you missed out on one, our customer service team can help you find something similar.
Free Shipping, Zero Fees
You pay for what you get: premium wine delivered to your doorstep. We offer free shipping with a minimum purchase, and we never bill you membership or club fees.
Visit WTSO.com today for the world's finest wines at the lowest prices, plus unmatched customer service.