Finally! The warmer months are on their way, and with them come relaxation, various festivities, and lots of sunshine. It's time to delve into the light, refreshing wines of summer. Check out our guide to the best wines for summer, which covers reds, whites, and rosés.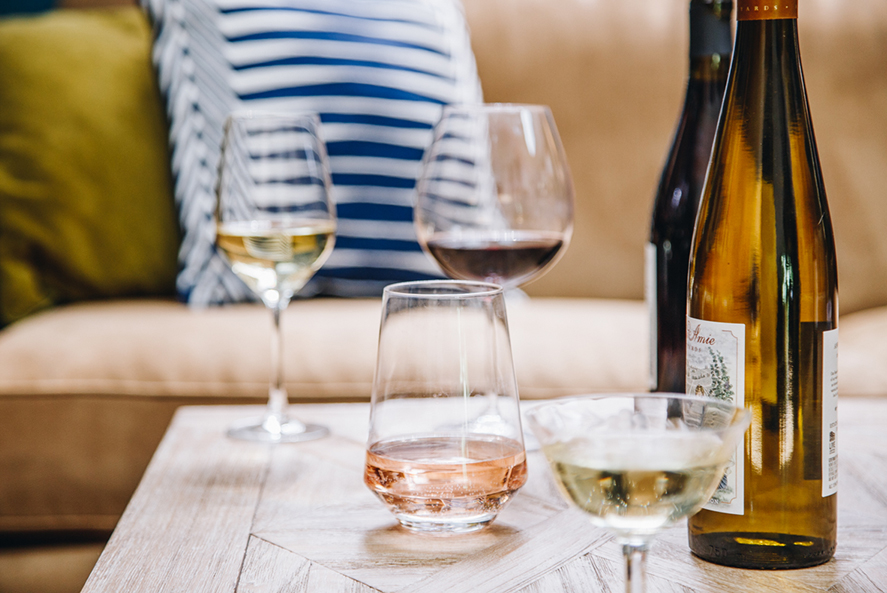 Best White Wines for Summer
When the heat is getting to you and you're looking for the perfect refreshing glass of wine—or something to mix into a spritzer—white wine is an incredible option. Look for white wines with some of these qualities:
High acidity
Light to medium body
Dry taste
If you pick up a bottle of sweet wine, try to make sure that it also has a high acidity. The fruity sweetness of peaches and honeycomb partners particularly well with citrusy notes. Look for a dry white, which will be quite different from a dry red; the driest white wine is not nearly as dry as a high-tannin red.
Many white wines have a good bite to them, making them wonderful partners to seafood and cream-based dishes. Make sure to pick up a light- to medium-bodied wine to pair with your food—steer clear of full-bodied Chardonnay options.
Riesling
Available in both sweet and dry versions, Riesling is one of the most aromatic wines out there. This refreshing option makes for a wonderful table wine because it pairs well with a variety of foods.
Pinot Grigio
Also known as Pinot Gris, this variety of wine typically comes from Italy and France. Depending on the region in which it was created, the flavor profiles can vary significantly. The acidity of this easy-drinking wine pairs perfectly with seafood.
Sauvignon Blanc
One of the best wines for summer, Sauvignon Blanc has exploded in popularity. Creamy, spicy, and both acidic and soft, it's an incredibly versatile choice.
Albariño
Spain's quintessential white wine, Albariño is made from a variety of white grape that creates the perfect refreshing glass of wine. You'll taste notes of buttercup and peach and a salty touch of brine.
White Blends
When you have a bottle of a white blend, complex flavors will ignite your taste buds. Blends are better enjoyed a few degrees warmer than other chilled white wines. This summer, try blends of Sauvignon Blanc and Sémillon.
Best Rosé Wines for Summer
The fresh, crisp, flexible style of this wine makes it perfect for any day of the summer. Whether it's rainy or sunny, incredibly hot or a perfect 70 degrees, there's a style of rosé to match your needs.
When you're looking for the perfect rosé, there are few things you should keep in mind:
The age of the bottle
Fruity doesn't always mean sweet
Don't be afraid of dry rosés
Whereas other wines get better with age, rosé wines should be consumed a year or two after production. They shouldn't age any more than that because some of the qualities we love—such as the acidity and the crispness—will begin to deteriorate.
As you search for the perfect rosé wine, remember that a fruity wine doesn't necessarily equal a sweet wine. Fruity wines can sometimes be on the drier side—but that's not something to avoid. The dryness can bring a much-needed crispness to the wine.
Sparkling Rosé
There's a wide variety of bubbly rosés for you to try: from dry brut rosés to sweeter Proseccos, there's a sparkle for any occasion.
Provence Rosé
The French region of Provence is well known for its rosé. The crisp and refreshing nature of wines from this area make Provence rosé versatile and perfect for summer sipping.
Sangiovese Rosé
The bright copper colors of this wine shimmer with vibrant notes of melon, peach, and rose. It's perfect for enjoying a Mediterranean meal on the porch on a summer night
Grenache Rosé
This wine is best served cold, so it's perfect for those hot summer days. It blends tannins and acidity perfectly, leaving a delightful crisp aftertaste.
Pinot Noir Rosé
Perfect for a friendly gathering, pinot noir rosé is full of delicate flavors that mesh with every palate. It's a bit on the drier side, so try this one at your next barbeque.
Best Red Wines for Summer
Pro tip: avoid heavy, full-bodied red wines during the summer. They'll dehydrate you and tire you out at a time when you most need hydration. So which reds should you choose?
In the heat of the summer, look for red wines that have the following three qualities:
Great taste when chilled
Low tannin levels
Higher acidity
These three qualities fit well with warm weather and work in tandem with your body's needs in the summer months. Chilled wines in the summer are a must—nobody likes a warm beverage on a hot day. You'll often find that wine gains various qualities when chilled. That said, not all red wines taste great chilled, so choose wisely.
Higher acidity and low tannin levels will make your body happy in the summer. The dryness of red wines comes from high amounts of tannin—you'll often find high tannin in full-bodied wines. Lighter-bodied wines will be crisper, and when you pair that with a higher acidity, you'll end up with a refreshing sip of wine.
Cinsault
Cinsault tastes like somebody tossed a handful of fresh red berries into a blender. Its wonderful acidity pairs perfectly with the floral notes—it's your next boating day wine
Frappato
Low tannins make this an easy-drinking red wine. Its light-bodied nature points to its reliance on freshness rather than on overwhelming flavor. Serve this one lightly chilled.
Pinot Noir
Cool-climate pinot noirs are all the rage in the summertime. These types of wines are often quite fruit-driven, and their light body pairs perfectly with barbequed meats.
Lambrusco di Sorbara
Lambrusco is what you should grab if you want a sweeter red in the heat. Best served chilled, this bubbly wine is the perfect mix of acidity and sweetness. This type of Lambrusco is a bit more floral and perfect for days on the beach.
 Zweigelt
An explosion of both sweet and sour is what makes this Austrian wine so popular. A wonderful way to finish off a long day full of activities, these wines often have some carbonation to them.
At Wines 'Til Sold Out, we strive to provide you with the wines you crave each season. Look through our online wine store if you don't want the hassle of finding the perfect wine—we have all the best options for this summer season!