Craving something summery for dinner? Bring the beach to your home by whipping together this Kitchen Clambake dish for 4 in just 45 minutes. And if you're looking for the perfect wine to pair it with or mix into this seafood dish, go with a dry white wine like Chardonnay. Find back-to-back selections (as well as a card with this recipe) in the newest Weekly Tasting pack, Brick & Mortar Chardonnay Vertical!
Here's what you need to get started: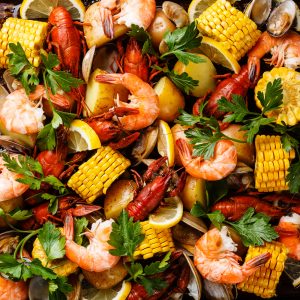 1/2 stick unsalted butter
1 large red onion, cut into large chunks
6 cloves garlic, peeled and minced
1 lb baby potatoes, any color
1 lb kielbasa, sliced into 1/2 inch rounds
2 lbs mixed clams (littleneck and steamer)
1 1/2 lbs mussels, debearded and scrubbed
1 1/2 lbs deveined shell-on shrimp
1 1/2 lbs crayfish or crab legs
3 ears of corn, shucked and each cut into 3 pieces
1 tbsp Old Bay seasoning
2 cups dry white wine
2 lemons cut into wedges
Salt & pepper to taste
When it's time to cook, follow these directions:
Add butter to a large (20 quart) stockpot over medium heat. Once melted, add onion and garlic and cook until softened.
Add potatoes in one layer. Add kielbasa in one layer. Add corn in one layer. Add clams in one layer. Add mussels in one layer. Add shrimp in one layer. Add crayfish or crab in one layer.
Sprinkle on Old Bay seasoning and pour in the wine.
Cover with a lid or tightly wrapped foil and cook over medium-high heat for about 15 minutes.
Lower temperature to medium-low and cook for another 15-20 minutes or until the potatoes are tender and all of the clams and mussels have opened.
Remove all ingredients and spread them on a large sheet tray. Taste the broth and season with salt and pepper to taste.
Ladle the broth over the ingredients, avoiding any sand that clams and mussels may have released. Serve with lemon wedges.
And in just 45 minutes you have a Clambake that will make you feel like you're right by the ocean no matter where you are! Put this dish together on a nice weekend afternoon, and don't forget to get a dry, white wine in a Weekly Tasting set to take it to the next level!
Find the perfect wine pairing for your next home-cooked meal by shopping the wide selection of wine online at WTSO.