This Baked Brie Pasta recipe by Chef Tori Sellon is inspired by the classic dish, Pasta Carbonara. It combines all the elements of the classic dish like cured pork, egg yolk, and cheese but with a little French twist. You can still expect it to be just as comforting of a meal, especially as a part of a French wine pairing like the sparkling Blanc de Blancs in our Weekly Tasting set The Fresh and Clean Flavors of Alsace. 
Ingredients:
2-4 tbsp olive oil
1 16-oz dried spaghetti
1 pound wheel of Brie cheese
4 slices of prosciutto
4 raw egg yolks
1 lemon, zested
Black pepper to taste
Fresh basil, julienned, for garnish
Directions:
1. Preheat oven to 375°F.
2. Prepare spaghetti by boiling a large pot of salted water. Add 2-4 tbs of olive oil, then add the spaghetti. Cook for 10 minutes or until al dente according to directions. Drain the noodles and set aside.
3. Place a wheel of brie into a baking dish or cast-iron pan. Carefully slice off the top rind of the cheese wheel. Layer prosciutto on top of the brie and replace the rind like a lid. Bake the Brie for 15 minutes or until the cheese is melted and bubbling.
4. Remove Brie from oven and toss the drained pasta into the pan until well coated.
5. Using tongs or a fork, spin the pasta to make a nest. Plate the nest and make a small indent at the top.
6. Place one separated egg yolk in the indent of the pasta nest. Top with lemon zest, generous amount of black pepper, and basil.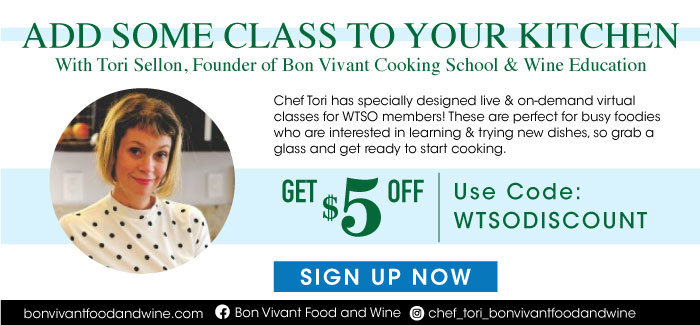 Since we're feeling French, we say "Bon appetit" to this delicious meal and "Salut" to the bubbly in hand.  Don't miss out on the perfectly paired Weekly Tasting set Spring, Released: The Fresh and Clean Flavors of Alsace, available for a limited time only.