Nothing screams "winter weeknight meal" quite like a bowl of spaghetti and meatballs. But, of course, we wanted to try a wine-derful twist on the classic dish.
Cook this Black Blue Meatball recipe for 4 by Tori Sellon in just 30 minutes after a long day at work; then, treat yourself to its perfect pairing with a bottle of French red wine. Find St. Émilion selections in this week's new tasting, St. Émilion: Where Queen Is King!
Now that you have your wines, we can get to the food:
Ingredients:
1 lb ground beef
1/2 onion, finely diced
1 clove garlic, minced
1 tsp oregano
1 tsp herbs de Provence
1 tsp salt
1/2 tsp sweet paprika
2 tbsp milk
1/4 breadcrumbs
1 bunch fresh parsley, minced
1/4 cup pine nuts
Blue Cheese Sauce
1.5 cup heavy cream
6 oz blue cheese
1 clove garlic, crushed
1 tbs French mustard
1 egg yolk
1/2 tsp freshly ground black pepper
Instructions:
1. Preheat the oven to 375 degrees F.
2. Combine all the meatball ingredients together. Form the meat into small evenly-sized balls. Place the meatballs into a baking dish or cast iron skillet. Bake for 15-20 minutes.
3. In a medium sauce pan, add the cream, blue cheese, and garlic on low heat. (Do not let boil.) Stir frequently until cheese is melted and combined. Add mustard.
4. In a small bowl, add egg yolk. Ladle some of the warm sauce in and whisk well so that they are smooth and combined. Slowly add egg mixture into the sauce pan, while continuing to whisk and increasing the heat slightly. Continue until sauce reaches consistency to coat the back of the spoon. Remove garlic.
5. Plate the meatballs and drizzle the blue cheese sauce over top. Garnish with additional parsley and pine nuts on top. Finish with freshly ground black pepper.
If this modern take on a classic meal doesn't leave you feeling full & satisfied on any fall night, we don't know what will — except maybe a glass of red. Find pairings for this dish in the latest St. Emilion Weekly Tasting set.
Now, it's time to enjoy. Cheers!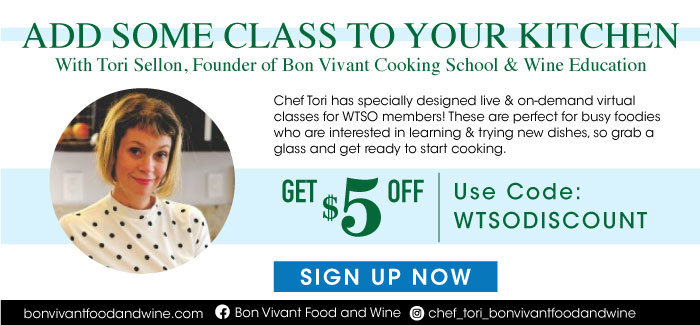 Recipe by: Chef Tori Sellon from Bon Vivant Cooking School & Wine Education