Put a delicious twist on a classic dish with this Butternut Squash Sage Lasagna recipe by Chef Tori Sellon from Bon Vivant Food & Wine!
After about an hour and 30 minutes of prep & cooking, this dish will be ready to serve to up to 6 people. Fill their glasses while you're at it with a bottle of sparkling wine. The New Everyday Sparklers Weekly Tasting set by Marc Supsic offers 4 bottles (2 types) of French Crémant that will perfectly complement the flavors of this wintry meal.
Now let's get started!
Ingredients:
2 lbs butternut squash
broth
2 cloves garlic
2½ tsp salt, divided
10 springs of sage
½ cup sour cream
½ cup heavy cream
½ cup parmesan
24 oz ricotta cheese
½ bunch finely chopped parsley
2 eggs
2 tsp herbs de Provence
3 tbsp butter
12 oz shiitake mushrooms, sliced
1 bunch fresh spinach, washed and chopped
1 tbsp olive oil
Instructions:
To make the sauce, cook the squash, broth, garlic, 1 teaspoon salt and sage leaves in a large pot over medium-high heat until squash is tender. Remove sage leaves.
Place squash mixture in a blender and puree. Stir in sour cream, cream, and parmesan. Adjust seasoning by salting to taste or adding more garlic if needed. If the sauce is too thick, add more broth until the consistency is of a thick soup. Set aside.
Preheat oven to 375.
Next, make ricotta filling. In a large bowl, mix the eggs, ricotta, ½ teaspoon salt, and parsley until combined well. Set aside.
Melt the butter in a pan and sauté the mushrooms, adding 1 teaspoon of salt. Once cooked, add the spinach and drizzle with olive oil to wilt the leaves.
6ssemble lasagna in a large casserole dish. First, pour in a ladle of squash sauce. Place a layer of lasagna noodles. Next, place spoonfuls of ricotta mixture on the noodles and use the back of a spoon to gently smooth it over the noodles.
Place a new layer of noodles and new layer of sauce. Use all the mushroom filling in the next layer and add more sauce on the top. Add one more final layer of noodles. Ladle the remaining sauce and sprinkle manchego cheese over top.
Bake for 45 mins until brown and bubbly. Let it set for 15 mins after removing from the oven. Garnish with a sprinkle of chopped parsley. Serve and enjoy!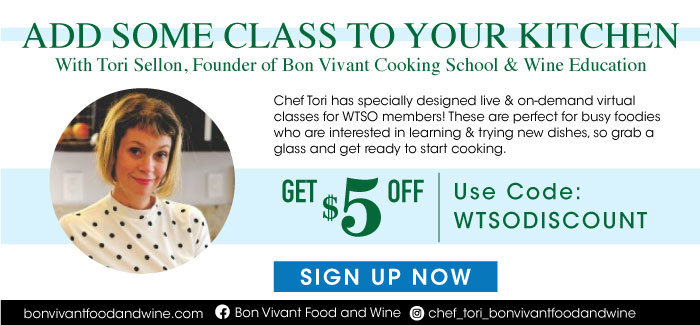 May the end of your year be filled with decadent food, delicious sparkling wine, and family. Enjoy this meal and many others by Tori Sellon when you view the recipe section of our blog and pair meals with wines in regularly-updated Weekly Tasting sets!