Looking for something light and delicious to create on a summer weeknight? Create this Eggplant Parmesan for 4 in just 50 minutes. And to reward yourself for creating this healthy meal, pair your food with a delicious bottle of red wine! Find European favorites in the Italian Reds Weekly Tasting pack, and find other red selections available every day on WTSO!
Here's what you'll need: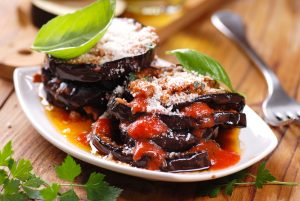 1 large eggplant, sliced lengthwise into 1/2 inch pieces
2 eggs, beaten with a fork
1 1/2 cup panko breadcrumbs
2 tbsp extra-virgin olive oil
25 oz marinara sauce
1 cup shredded mozzarella cheese
1/2 cup shredded parmesan cheese
Then it's time to get to cooking:
Place a large rimmed baking sheet in the oven and preheat to 375 degrees Fahrenheit.
Coat eggplant slices with egg. Coat both sides of slices with panko.
Spread oil on the hot baking sheet and arrange eggplant slices in a single layer.
Bake 15 minutes, flip, and bake another 10 minutes.
Increase the oven temperature to 475 degrees.
In an 8×10 inch oven-proof dish, layer half the sauce, then eggplant, then the cheese. Repeat with the remaining ingredients, finishing with cheese. Then bake about 15 minutes.
And there you have it, a mouth-watering summertime dish to enjoy with a reliable glass of red wine.
Find the perfect wine pairing for your next meal by shopping the wide variety of wines at WTSO!