Looking for a light summer dish to prepare? Create this Grilled Chili-Garlic Swordfish for 4 in just 45 minutes — and don't forget the wine! Pair this mouth-watering seafood meal with a refreshing rosé from the NEW Weekly Tasting set, 2019 Rosé Tasting!
Here's what you need to get started: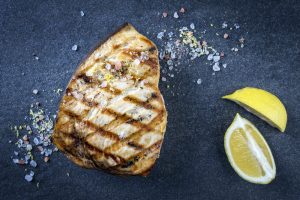 4 6oz swordfish steaks
2 tbsp reduced-sodium soy sauce or tamari
2 tbsp neutral oil (grapeseed, vegetable, canola, etc.)
1 tbsp lime or lemon juice
1 clove garlic, peeled and minced
1 tsp fresh minced ginger
1 tbsp Sriracha
1 tbsp Gochujang (Korean chili paste)
Salt & pepper to taste
And when it's time to start cooking:
In a gallon zip-top bag, mix the soy sauce or tamari, oil, lime or lemon juice, garlic, ginger, Sriracha, Gochujang, and salt & pepper.
NOTE: soy sauce, tamari, and Gochujang all contain sodium, so depending on your taste, you may not need additional salt.
Add the swordfish steaks to the bag and marinate for 15 to 30 minutes.
While the swordfish marinates, heat a grill pan or gas or charcoal grill to medium-high.
Remove the fish from the marinade and grill for 4 to 6 minutes on each side or until desired doneness. Use the extra marinade to brush on the steaks as they cook.
Serve immediately alongside your favorite grilled vegetables or over steamed rice.
And in just 45 minutes you'll have a yummy seafood dish for the whole family to enjoy. And just for you, don't forget to pair your meal with a bottle of rosé in a Weekly Tasting set!
Find the perfect wine pairing for your next home-cooked meal by shopping the wide variety of wines at WTSO!