Enjoy a classic dish from Mexico with a coastal twist, the Lobster and Corn Quesadilla. Create this meal for 4 in just 45 minutes — but first, don't forget to get a wine to pair it with. The mouthwatering flavors match perfectly with a dry, white wine like Chardonnay, which you can find in the Brick & Mortar Chardonnay Vertical Weekly Tasting set.
Here are the ingredients you'll need: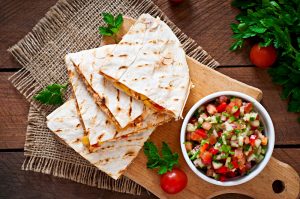 2 tbsp unsalted butter
1 cup fresh corn kernels
1/2 yellow or orange bell pepper, seeds removed and diced
2 cloves garlic, peeled and minced
1/2 small red onion, peeled and diced
1 lb cooked lobster meat, chopped
1 cup Gruyère cheese, shredded
1 cup Monterey or Pepper Jack cheese, shredded
1 cup cheddar cheese, shredded
8-10 large flour tortillas
Sour cream, salsa, and lime wedges
Salt and pepper to taste
Cooking spray
Then, it's time to start cooking:
Add butter to a large saucepan over medium heat. Once melted, add corn, bell pepper, garlic, and onion and cook until softened.
Remove from heat and add chopped lobster, salt, and pepper to taste.
In a medium bowl, mix the Gruyère, Monterey Jack, and cheddar cheeses.
Place a large saucepan over medium-low heat. Spray with cooking spray and place a tortilla in the pan.
Add a thin layer of cheese onto half of the tortilla. Top the cheese with lobster mix and another thin layer of cheese.
Fold the empty half of the tortilla over the cheese and lobster mix and press down with a spatula. Once the bottom of the quesadilla is golden brown, gently flip and cook the other side until golden brown and cheese is fully melted. Repeat with all tortillas.
Cut the quesadillas into wedges and serve with lime wedges, sour cream, and your favorite salsa.
And in just 45 minutes you'll have a quesadilla dish for the whole family. And just for you, don't forget to pair your meal with a bottle of wine in a Weekly Tasting set!
Find the perfect wine pairing for your next home-cooked meal by shopping the wide selection of wine online at WTSO.