To make the Moroccan Lamb Phyllo Pies, you will need a muffin tin and pastry brush. You will be layering the dough in the muffin tin, stuffing them with the filling and then baking till golden brown. Make sure to set your phyllo dough out ahead of time. It needs to set on a room temp counter for 2 hours, or 8 hours in the refrigerator.
Serve your dish alongside a glass of wine from the Weekly Tasting Fabulous French Values: Rhône's Finest Wines for a perfect pairing!
Ingredients:
1 lb ground lamb
½ yellow onion, minced
2 cloves garlic, crushed
1 tbsp paprika
1 tbsp ground coriander
1 tsp ginger paste
¼ cup slivered almonds
¼ cup chopped dried apricots
½ tsp salt or to taste
½ cup fresh pomegranate seeds
½ cup chopped cilantro
1 cup vegetable broth
1 package phyllo dough, thawed
Olive oil or melted butter, for brushing
Directions:
1. Preheat oven to 400°F.
2. In a large pan, add 1 tablespoon of oil and onion; sauté together. Then add lamb and cook until browned. Once the meat has started to cook and release some juices, add the spices, ginger, garlic, almonds, apricots, and salt.
3. When the meat has browned, add the pomegranate seeds, broth, and cilantro. Stir well and season to taste with more salt, if needed. Set aside to let the mixture absorb.
4. Take a muffin tin and brush oil on the inside of each cup. Take one sheet of phyllo dough and cut it in half. Cut the halves into thirds to make six equal pieces. Brush olive oil on one side of the dough and layer another piece of dough on top. Repeat again with a third piece. Place the stack of dough into the muffin cup and pleat it, letting the excess hang over the top.
5. Place the meat filling inside each cup by tightly packing it in. Fold the overhanging dough over the meat mixture. Brush each fold with olive oil or butter. Repeat until the muffin tin is filled.
6. Bake for 15-20 minutes or until golden and flaky.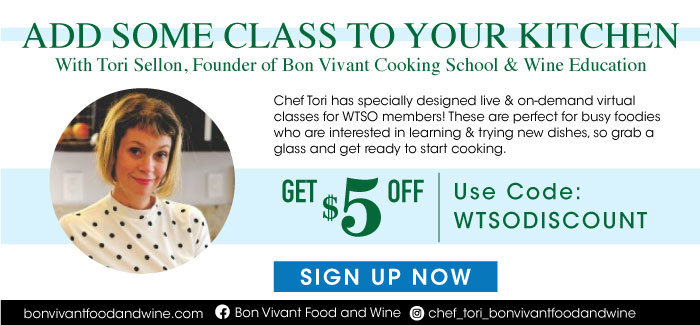 This pairs well with Syrah like Romain Duvernay 2018 Crozes-Hermitage from the Weekly Tasting Fabulous French Values: Rhône's Finest Wines available for a limited time only.