February weather is no match for a warm pasta dish paired with a delicious bottle of wine. Cook this creamy, decadent Pasta Primavera for 8 people in just 40 minutes.
And with all that time you're saving, pour a glass of Château Calvimont 2015 Graves, a crisp white wine available in the French Whites Weekly Tasting set. Catch this set being featured periodically on the Weekly Tasting tab or shop a Build Your Own Pack Sale in the future to get access to single bottles from previous packs.
Less talking, more cooking. Here's what you need:
Ingredients: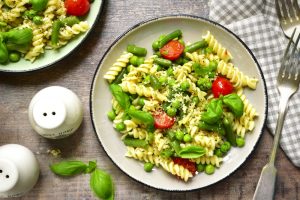 1 lb dried pasta
2 cloves garlic, finely minced
1 cup heavy cream
1/2 cup grated parmesan
8 asparagus spears, cleaned
1/2 cup fresh green peas
Salt and pepper
1/2 cup grape tomatoes
8 oz broccoli florets
4 oz button mushrooms
3 tbsp butter
1 tbsp olive oil
1/4 cup chopped basil
Directions:
Cook pasta until tender in salted water. Drain and reserve.
Quarter tomatoes. Cut asparagus into 2 inch lengths. Slice mushrooms thinly. Add butter and oil to pan, saute mushrooms and garlic until fragrant.
Add broccoli and asparagus, saute until asparagus is bright green. Add peas, pasta, cream, and cheese. Toss together and cook until peas are warmed through. Stir in salt, pepper, and basil and serve.
And there you have it, a super simple weeknight meal that you can create in under an hour (and an excuse to try it with a great bottle of wine for beginners and connoisseurs alike). Pair it with the wine we listed, or find another French white wine at any time on WTSO.com. Enjoy!