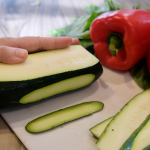 A healthy appetizer that's perfect for pairing with wine during any time of the year? Sign us up!
These Roasted Provence Vegetables With Creamy Polenta, created by chef Tori Sellon, can serve 6-8 people in about just 1 1/2 – 2 hours.
As you and a few friends or family members are munching on the veggies, turn your meal up a notch with a bottle of wine for pairing. Find themed seasonal selections and more recipe ideas when you try a wine set from Weekly Tasting.
Now, enough about us. Let's get you ready to savor and sip:
Ingredients:
1 eggplant, sliced lengthwise
1 lb cherry tomatoes
2 zucchini
olive oil
salt
Herbs de Provence
…for the Polenta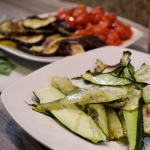 1 c polenta
4 c broth or water
1 c heavy cream
4 tbsp butter
1/2 cup parmesan cheese (more for topping if desired)
…for the Sauce
3 red peppers, roasted
1/2 c walnuts
1 clove garlic
1/2 tsp salt
10 basil leaves
Instructions:
Vegetables
Preheat oven to 475 degrees F
Thinly slice the eggplant and zucchini. Place on baking tray without crowding. Generously drizzle with olive oil, salt, and herbs de Provence.
Roast on high for 15-20 mins. Finish under the broiler for 4-7 mins to get brown edges.
Seed and core red peppers then cut in half and place on baking sheet skin side up. Drizzle with olive oil and salt. If there is room, also place cherry tomatoes on the tray
Roast for 15 mins and finish under the broiler.
Polenta
 Pour 4 cups of water and 1/2 tsp salt into a heavy bottom pot or dutch oven. Bring water to a boil and then add 1 cup polenta to the boiling water.
Reduce heat to a simmer and let cook for 30 mins. Stir frequently to ensure it doesn't burn on the bottom.
Once it's cooked for 3o mins, add 4 tbsp butter and 1/2 cup cream. Continue to cook for another 5-10 mins on low heat, stirring frequently. Add 1/2 cup parmesan to polenta and stir to melt.
Instant Pot Polenta
Spray the bottom of the Instant Pot with cooking spray to avoid sticking. Add 1 cup polenta, 4 cups water or broth, and 1/2 tsp of salt.
Cook under high pressure for 30 mins. Allow 10 mins natural release.
Open lid and add 4 tbsp butter, 1/2 cup cream, and 1/2 cup parmesan. Stir.
Red Pepper Sauce
Place roasted peppers, garlic, walnuts, salt, and basil in a blender and puree until smooth.
Set aside to serve.
To assemble the dish for serving, place polenta on a plate or platter. Add the red pepper sauce and then layer the vegetables on top. Sprinkle with parmesan cheese and basil cut into ribbons.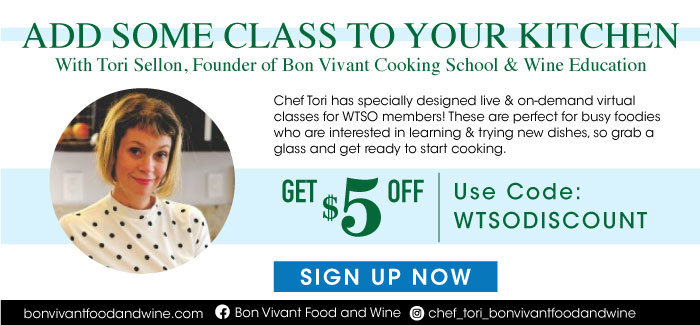 Before you know it, this roasted vegetable dish will be ready to enjoy alongside a glass of seasonal wine. Get more food and wine pairings inspiration when you visit Weekly Tasting and treat yourself to a sommelier-curated tasting set. Enjoy!