Seafood and winter go hand-in-hand, almost as much as this Salmon Pot Pie & a glass of wine from Robledo Family Winery.
Salmon Pot Pie with Creamy Tarragon Sauce by Chef Tori Sellon will only take you 45 minutes to make for up to 4 people.
As you're waiting for it to be ready, pour a glass of Pinot Noir from this week's new tasting.
Time to start whipping up this must-have meal:
Ingredients:
2 tbsp butter
1 leek, finely chopped
2 tbsp flour
3/4 C cream
1/4 c dry white wine
1/2 tsp chives minced (or dried)
3 tbsp Dijon mustard
2 small potatoes, cut into 1/2″ pieces
1 tbsp fresh tarragon, chopped
1 tsp salt or to taste
3-4 small salmon fillets, skin removed
Frozen puff pastry
Instructions:
Remove the puff pastry from the freezer and pre-heat the oven according to the directions on the packages. Times and temperatures may vary.
Wash chopped leeks thoroughly, as they are very sandy. Let drain. Over medium heat, melt the butter in a skillet or cast iron pan. Add leeks and sauté until softened.
 Add flour then cream and allow the sauce to thicken. Then stir in wine, chives, and mustard. Bring the heat down to low and simmer for about 5 mins. Add potatoes and tarragon, and continue to simmer. Season to taste with salt or more mustard.
Cut the salmon into chunks, making sure to remove any bones. Add salmon to the pan.
If using a cast iron pan, drape the puff pastry over top and let the crust move up the sides of the pan. If using a baking dish, transfer the contents of the pan to the baking dish and place the crust on top. Either method, cut a vent in the center of the puff pastry top.
Bake according to puff pastry directions. Allow to cool for 10-15 minutes after removing from the oven. Slice and serve with a simple side salad.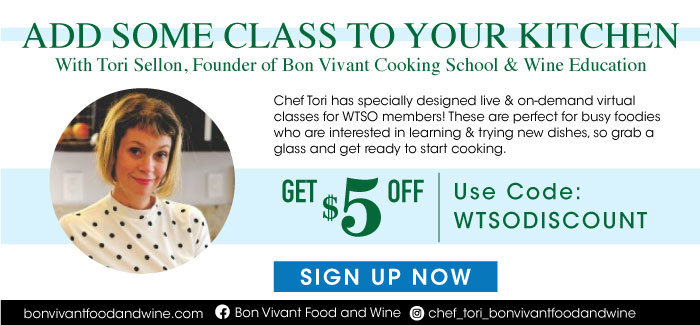 Don't forget to pair this mouth-watering wintry meal by Chef Tori Sellon with a bottle of wine from Weekly Tasting's newest Robledo Winery set. Enjoy!