Looking for a unique spin on chocolate chip cookies? Chef Tori Sellon inspires us again with this recipe for Tahini Chocolate Chip Cookies, which pair perfectly with the Weekly Tasting, Fabulous French Values: Rhône's Finest Wines!

Tahini is a seed paste and is very common in Middle Eastern cooking. It is popular in many savory sauces and often drizzled over falafel or kabobs. Tahini is also the foundation of a popular sweet treat called halva, which is creamy and sweet with nutty notes that border on bitter. Although halva is an acquired taste, it is still popular in sugary recipes like brownies and cookies.

There are so many great things about the cookies featured in the below recipe. The flavor is slightly nutty and interesting, and the cookies themselves are tender and chewy. Just the way we like cookies! Using the tahini in this recipe also opens up the possibility to make them gluten-free, and using cassava flour makes them completely grain-free, making them suitable for all kinds of allergies and dietary restrictions. 

What is really important to remember, however, is that they are incredibly tasty and unique!
Ingredients:
1 cup/188 g all-purpose flour (sub cassava flour for gluten-free)
3/4 tsp baking powder
½ tsp salt
1 stick salted butter, softened at room temp
1 cup/180 g coconut sugar
2 eggs
1 cup/240 g tahini paste
2 tsp vanilla
2 tbsp/30 g honey
1 cup Brix Chocolate or semi-sweet chocolate, cut into chunks
Directions:
1. Preheat oven to 375°F.
2. In a large bowl, combine dry ingredients: flour, baking powder, and salt.
3. In a stand or hand-held mixer, cream butter and sugar together until light and fluffy.
4. Add eggs, vanilla, and honey; beat until smooth. Add the tahini and mix again until fully incorporated.
5. Add dry ingredients into the mixing bowl and mix until texture is a smooth, thick paste. Fold chocolate chunks into the cookie dough.
6. Line a baking sheet with parchment paper or silpat mat. Roll golf ball-sized pieces between your hands and place on the baking sheet about 1 inch apart.
7. Bake for 8-12 minutes or until just golden. Remove from the oven and cool for 5 mins before eating.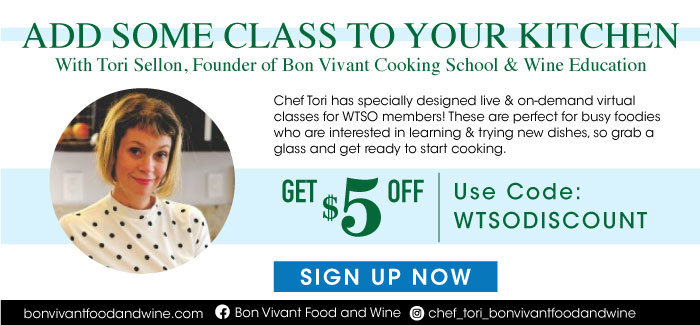 This pairs well with Syrah like Romain Duvernay 2018 Crozes-Hermitage from the Weekly Tasting Fabulous French Values: Rhône's Finest Wines available for a limited time only.