Do you ever find yourself a little let down by the excitement that follows Thanksgiving, consisting of hours of cleanup and days of eating bland, warmed up leftovers? For wine lovers with a little creativity, the week after Thanksgiving can be just as exciting as the meal itself. Here are a few ideas about how to put those leftovers to good use and drink delicious wine as well. Enjoy!
Thanksgiving Omelettes – Cava
Many Thanksgiving dishes are enjoyable when mixed together – think turkey, stuffing, green beans, etc. These items can be used to make amazing omelettes with very little effort. For example, try sautéing some turkey with onions and garlic until it begins to brown, then add some additional leftovers like brussels sprouts or green beans and fold into a cheesy omelette. Served along with a cold glass of the Spanish sparkling wine called "Cava," you'll find your mouth watering a day or two after Thanksgiving. Cava, made with the same method as Champagne, comes in a variety of styles, but most examples come from a blend of white grapes and are dry to off-dry. Drink the Cava on its own or mix with orange juice for post-Thanksgiving brunch mimosas.
Mac and Cheese Muffins – Chardonnay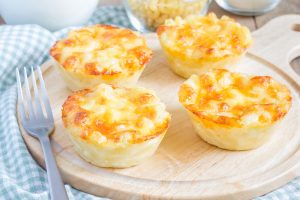 Mac and cheese isn't the most iconic of Thanksgiving foods, but it is one of the most common – partially due to the tastes of children. If you find yourself with leftover mac and cheese, you can simply scoop it into a greased muffin pan and bake it to produce lovely golden-brown muffins that are great on their own with a glass of Chardonnay or as an accompaniment to soup. Chardonnay boasts a full body and nutty, buttery flavors that will fuse beautifully with the mac and cheese and make you happy you didn't finish it all at the Thanksgiving table.
Green Bean Guacamole – Sauvignon Blanc
Among the more difficult Thanksgiving dishes to remix, green beans often end up reheated over and over as a side to dinner after dinner. One creative way to break the cycle is to puree them and substitute them for avocado in your favorite guacamole recipe. You can replace all or part of the avocado, but you should also add some butter or oil to the dish so that you don't lose the expected richness of good guac. Pair with a Sauvignon Blanc for the wine's naturally "green" flavor that will tie into the food. This wine also features bright citrus flavors that will be as natural a fit for your guacamole as a wedge of lime.
Mashed Potato Waffles – Albariño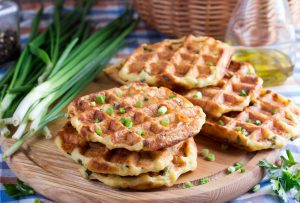 Making waffles out of your mashed potatoes will not only give you a hot, irresistible entree, but one that can be enjoyed at any meal. Serve with butter, sour cream, chives, and a cold glass of the Spanish white wine Albariño. Originating in the cool climate of Galicia, Albariño is highly aromatic with a nose of peach and green apple, similar to Riesling or Gewürztraminer. You might think from the aromas that you're about to taste a sweet wine, but the palate is dry and crisp – a refreshing side for a decadent dish.
Grilled Turkey and Cheese Sliders – Pinot Grigio
These enticing little sandwiches are great for nighttime parties, as well as weekday lunches, and since they are made entirely of leftovers aside from cheese, they're a great way to clean out your fridge. Simply use your leftover dinner rolls with some turkey and cheese and pair with Pinot Grigio from Italy. This grape is known for being easy drinking and simple with flavors of dry apple and pear. It won't overpower the delicate flavors of the turkey or cheese and will make a mouth-watering addition to the leftover experience.
Cranberry Sauce Apple Tart – Beaujolais
Even if you love cranberry sauce as much as I do, it can still be a challenge to eat large quantities of leftovers. One way to use your cranberry sauce is to mix it with sliced apples, top with sugar, flour, spices, and oatmeal, and bake. You'll end up with a crisp so delicious that no one will notice how easy it was to make, or that it provides an excuse to free up space in the kitchen. You can pair this with one of the most common wines served at Thanksgiving to use up more than one kind of leftover. Beaujolais is a red from France made from the Gamay grape that is light in body with ample fruit flavors of berry and spice.
This year, remember that the culinary experience doesn't have to end after the main meal. You can continue to explore ways of putting leftovers to use and might even find yourself looking forward to the week following Thanksgiving more than the day itself.