Few wines inspire as much devotion as Pinot Noir. Enthusiasts seek out rare bottles from Burgundy, small producers in Oregon, and cool-weather classics from Santa Barbara. The appeal of Pinot Noir lies partly in its uniqueness. Light bodied, low in tannin, and rich with complexity and heritage, Pinot Noir has few rivals. Here are a few wines similar to Pinot Noir that will appeal to those who have a love for the red wine.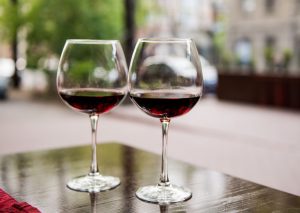 What Makes Pinot Noir Unique
Pinot Noir is a relatively cool-climate grape and ranks among the lightest-bodied and lowest tannin red wines. It typically has bright berry flavors, though it exhibits a wide variety of styles and tastes. If you like Pinot Noir, you should look at other low-tannin, light-bodied wines for comparison.
Beaujolais
Beaujolais is a region in southern Burgundy that almost exclusively produces one grape called "Gamay." Many people know Beaujolais for the inexpensive wine released each fall called "Beaujolais Nouveau" – a simple, light quaffing wine of arguable quality. While Nouveau can be pleasant, it only represents the most basic wine that Beaujolais has to offer. Judging Beaujolais by Nouveau would be like judging California by its boxed wine. Beaujolais has ten sub-areas called "crus" that account for the best wine in the region. These areas produce wine with a light body, low tannins, and opulent berry flavors that Pinot enthusiasts find very satisfying. The best thing about cru Beaujolais is its amazing value – even the best Beaujolais can usually be found for twenty dollars or less. Comparing that with the best Pinot Noir from Burgundy makes Beaujolais seem like a bargain well worth a try.

Dolcetto
The name of this Italian grape translates to "little sweet one," but it's a bit of a misnomer. "Sweet," in this case, might actually mean something more like "cute." Dolcetto comes from the northwestern Italian region of Piemonte, which is also home to famous wines like Barolo and Barbaresco. It has a darker color than Pinot Noir but is similarly smooth with light tannins and a bright palate full of berry flavors and violets. Pair Dolcetto with richer fish dishes like tuna, salmon, and catfish or grilled vegetables and beef stew.

Cabernet Franc
This grape is easy to confuse with its better known Cabernet Sauvignon, but they are quite different. Cabernet Franc is leaner than Cabernet Sauvignon with less tannin. It has dark fruit flavors like blackberry and plum and can also have tobacco, smoke, and green pepper notes. Cabernet Franc goes really well dish dishes that complement that green flavor like asparagus, green chiles, or lamb with mint. Cabernet Franc is normally a bit fuller and more rugged than Pinot Noir but works well with similar dishes and is a wine similar to Pinot Noir. Those who love Pinots will enjoy the Cabernet Franc.