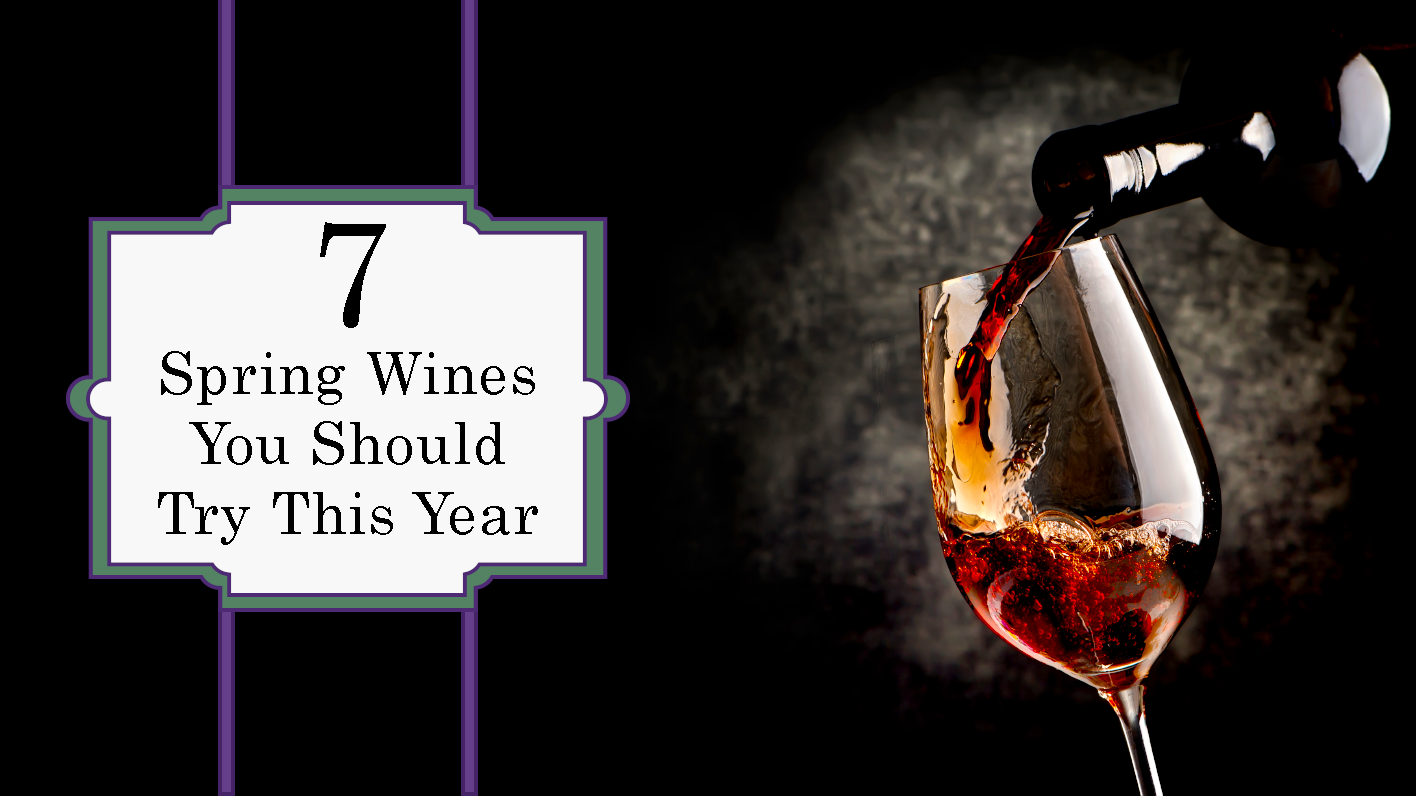 You're probably still bundled up in a sweater with a glass of red as you read this, but don't worry—warmer weather is right around the corner! We've put together a list of seven spring wines you should try in the upcoming season. Whether you prefer red or white, there's something for everyone in our online wine store.
Chardonnay
If you prefer dry wine, Chardonnay is the way to go. Said to be the crowd-pleaser of white wines, it's a full-bodied option that completes any spring evening.
In most cases, Chardonnay will include apple or tropical fruit. It can also include oak, which gives it a delicious vanilla flavor and earthy aroma. No matter the occasion, there's a Chardonnay out there to suit it.
The trick is to serve Chardonnay with buttery, creamy, or mildly seasoned dishes. For example, it tastes best when you pair it with pastas, risottos, and shellfish. You should avoid serving it too cold, as its temperature affects the way it tastes. Let it sit out of the refrigerator for about twenty minutes before you drink.
Pinot Noir
Why is this type of wine a suitable choice for spring? It's elegant and flavorful. Plus, it's not too dry or too sweet—you could say it's the Goldilocks of the reds.
A Pinot Noir is a light-bodied red with high acidity. Because it's very fruity, Pinot Noir pairs well with chicken, lamb, pork, and salmon dinners. While these wines don't need to be too cold, keep them in a wine cellar or refrigerator to ensure the best taste.
If you're hosting a party, don't be afraid to fill your guests' glasses with Pinot Noir. Everyone in your group will love it!
Prosecco
This white wine's vibrancy and sparkle makes it a timeless favorite, and it complements a variety of cocktails. You can find both dry and sweet Proseccos, and they commonly have aromas and flavors of citrus fruits and spring flowers.
When it comes to this bubbly beverage, don't be afraid to get creative. While prosecco is commonly a festive treat, you can enjoy it year-round—just as the Italians do! Spring is a great time to enjoy a fizz on a Friday night, or you can invite a few friends over for a Sunday mimosa brunch.
Prosecco is terrific with appetizers, mushrooms, soft cheeses, and so much more. It's truly a joy to drink, so stock up just in time for spring!
Riesling
This type of white wine is truly unique—some Rieslings are sweet, some aren't. Because it's an easy wine to drink, you're sure to find a Riesling that you'll love, no matter your preferences.
All Rieslings have strong floral aromas and high acidity. This is why they're crisp and the perfect accompaniment for grilled fish and meats, as well as heavily spiced Indian and Thai dishes. Still, because of its versatility, you can pair a Riesling with almost any plate.
When you sip this wine, you'll taste pears, peaches, and other delectable fruits. Riesling is truly an amazing variety you shouldn't pass up on this spring.
Rosé
What's a springtime event without it? Rosé is by far the most popular choice; while it's a dry wine, it's also refreshing and sweet. This type of wine usually features red berry, citrus, and flower flavors. Thanks to its adaptability, you can pair rosé with just about any food you can imagine. If you want to host a backyard barbecue, this wine should be the star—due to its sweetness, it's a great complement to smoky and spicy dishes. It acts as a great base for warm-weather cocktails, so be sure you always chill it beforehand.
Sauvignon Blanc
A national favorite, Sauvignon Blanc is a must-have in your white wine collection this spring. It's a common wine for everyday drinking, as it's bright, fresh, and an overall lively choice. It features crisp citrus and grassy flavors, as well as interesting herb and spice aromas (think basil and jalapeño).
The impressive balance between fruit and acidity makes a Sauvignon Blanc incredibly smooth. From soft cheeses and salads to seafood and more, no matter the cuisine, you can relax knowing this wine will pair with it beautifully. If you're craving a juicier wine, don't hesitate to reach for this medium-bodied classic. Don't forget to serve it chilled!
Syrah
Contrary to popular belief, you can sip reds even after winter has come and gone. Although Syrah is a variety that includes some of the darkest full-bodied wines in the world, you can still enjoy it through the changing seasons. Even in the heat, its aroma and taste remain just as powerful.
A Syrah typically includes dark berry and plum flavors, floral notes, and an unforgettable peppery spice. These qualities allow this red to pair wonderfully with barbecue, burgers, and other bold foods. It's even a perfect match for stinky cheeses!
The richness will have you pouring glasses all season long. Plus, Syrah contains antioxidants, so you can indulge in a glass and still achieve your health-related goals.
The next time you find yourself asking, "What wines are good for spring?", you'll have all the answers. Your taste buds will thank you!
If we've inspired you to seek out the finest spring wines available as we move out of winter, you can trust Wines 'til Sold Out to deliver them right to your door—literally. We offer an extensive online database of exceptional wines. Our selection includes a large variety of wines from all over the globe, so our customers can always enjoy a wine they've never had before. Once you create your custom package, the WTSO team will ship the wines you choose directly to your home. Whether you're buying for yourself or giving a gift to a friend, we have bottles for everybody on our site. If you're ready to taste something new, we encourage you to give our online wine store a try.
If you'd like more information, you can contact our representatives at any time. A convenient and quality wine experience is our highest priority!