If you want to throw the greatest New Year's party ever, you're going to need lots of sparklers. In this case, I'm referring to sparkling wine – but those miniature fireworks are fun, too. Of course you should have Champagne, but adding more choices to the mix will only enhance the evening. Here's a wine guide for a party that will have everyone looking forward to next year's celebration.
Supplies
Make sure you have everything you need before the party starts. Here is a list of supplies to get you started.
Wine: You can refer to our guide on how to plan the number of bottles you'll need. It doesn't hurt to have a generous amount on hand. You can always have Champagne with dinner through the spring if you have leftovers. We'll get into the types of wine you should buy later in this guide.
A cloth or towel: It's nice to have something nearby to mop up spills and keep the bottles dry. A kitchen towel will work fine, but you can also find something nicer if you care about presentation.
Ice: If you have a large enough refrigerator, you can chill all the wine that way, but it's even easier, in my opinion, to simply put your wine in the sink and cover it with ice about an hour before the party starts. That way, you can let the sink drain at the end of the night and won't even have to clean out a cooler.
Plenty of glasses: I recommend having more glasses than expected guests. That way, you'll be prepared if more people show up than expected or if a few glasses break over the course of the night. I like to use flutes early in the evening and switch to regular wine glasses for the midnight toast. So, if I were expecting 20 people, I'd try to have 25 flutes and 25 wine glasses on hand. Polish the glasses first – it may seem like a lot of effort, but trust me, it will be worth it to see the extra shine.
Dump bucket: Some people like to try many different wines without drinking excessively. It's a nice idea to have a container where people can spit or discard leftover wine from their glasses. It might not see much use, but it will be appreciated by at least some of your guests. I like to reassure my guests that it's okay to dump part of a glass out, so they don't feel rude trying to avoid excessive consumption.
Information about the wines: If you have access to information about the wines you're serving, it might be nice to print it out or at least read it over so you can answer questions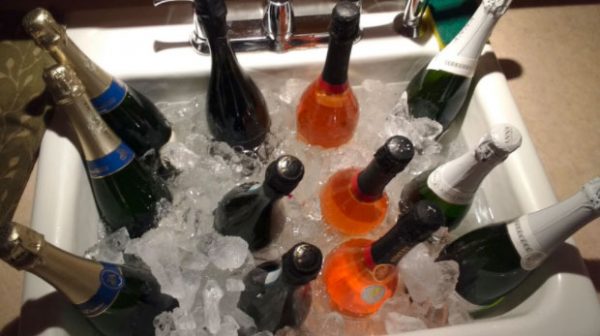 Prosecco
When your guests first arrive, you should greet them with a glass of Prosecco as a gesture of hospitality and give an example of the diversity of sparkling wines. Serving Prosecco in a flute will look elegant and help to moderate serving sizes.
Move to Crémant and Cava
After the initial glass of Prosecco, you should have a variety of sparkling wines available, including Cava from Spain and Crémant from France. Crémant wine is essentially Champagne from outside the official Champagne region. They are labeled according to their area of origin, for example, Crémant de Bordeaux, Crémant de Bourgogne, Crémant de Limoux, Crémant de Vouvray, etc. Buy a selection of wines including at least one of the following: rosé, sweet wine, and white dry sparkling wine. This will allow you to serve wine according to the individual tastes of your guests.
Champagne at Midnight
For the final midnight toast, Champagne is still the wine of choice. Consider buying a vintage Champagne. Most bottles are blended from multiple vintages, but in the best years, producers will sell wines made exclusively from a single vintage. If you can find a vintage that has particular significance for you or your guests, your party will be even more memorable. I recommend serving your Champagne in wine glasses rather than flutes because the shape will enhance the aromas and flavor. Pour the Champagne at about 11:40 pm and pass out the glasses right before midnight to be ready to ring in the new year!