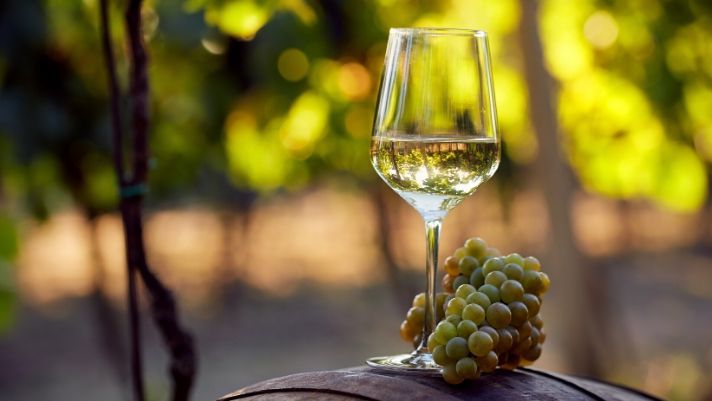 White wine and summer is a pair we can't get enough of. The heat of the summer sun with the refreshing sip of a cool white—what could be better? If you want to delve into the world of summer white wines, then take a look below! We've created some delicious summer white wine food pairings so that you can enjoy the sun, the fresh foods of the season, and the best whites for summer.
Sauvignon Blanc
Probably one of the most recognizable summer wines, Sauvignon Blanc is an excellent choice for the season. Open up a bottle for a barbeque or a summer seafood picnic—it's such a versatile choice that it'll work for most of your summer meals.
Pair Your Bottle With:
All your favorite sushi
Grilled veggies (think kabobs)
Seafood (shrimp, crab, oysters)
Gewürztraminer
Basically the grown-up version of Moscato, Gewürztraminer is such a beautiful wine for summer. That said, Gewürztraminers aren't always sweet—they typically taste sweeter than they are because of their heightened aromatics and lower acidity. Instead of picking up a bottle or Riesling this summer, pick up this refreshing bottle instead.
Pair Your Bottle With:
Your favorite artichoke dip
Moroccan cuisine
Seafood and duck dishes
Albariño
Another fantastic, unique choice for a white wine is the beautiful Albariño. It's light-bodied and low in sweetness, and it pairs beautifully with a lot of your favorite fresh, seasonal dishes. You'll notice lemon zest, grapefruit, nectarine, and a hint of salinity (it's a coastal grape). Because of its coastal origins, Albariño pairs magically with white fish and meats.
Pair Your Bottle With:
All things seafood—ceviche, grilled fish tacos, mussels, clams
Charcuterie boards with a gouda and salty feta
Grilled vegetable dishes or a Caesar salad
Chenin Blanc
We've talked about Chenin Blanc in some of our previous posts—it's a versatile white that fits almost any wine-lover's palate. Chenin Blanc comes in dry, off-dry, sweet, and sparkling styles, so grab a bottle that works for the meal you choose. For example, off-dry bottles will bring richer flavors of jasmine, passion fruit, and ripe pear, whereas sweet styles will have notes of mango, ginger, and mandarin orange.
Pair Your Bottle With:
Southeast Asian cuisine with a sweeter Chenin Blanc
Fish tacos with crunchy cabbage and coleslaw
Vegetable dishes with creamy cheeses
Chardonnay
The last on our list of summer white wine food pairings is the popular Chardonnay. People love this white wine so much that we had to help you pair it. You have to be careful about what you eat with this, since pungent foods can take over the subtleties of the wine. This wine pairs best with other rich yet mild flavors.
Pair Your Bottle With:
Creamy pasta dishes
Roast chicken or pork dishes
Meaty fish (halibut and cod) and some shellfish
Hopefully, this brief guide to some refreshing summer whites will give you a better idea of what to drink this season. If you're on the hunt for any of these scrumptious choices, look to Wines 'Til Sold Out, the online wine store you've been looking for. From beautiful summer whites to deep reds for chillier nights, everything you need is here!