The this-mouthwatering appetizer by Chef Tori Sellon is perfect for this time of year: right between fall and winter, when we're looking for a delicious dish to pair with wine & warm us up.
Create these Brie-Smothered Potatoes Gratin for 6 people in just about 40 minutes. And of course, you'll need the perfect wine pairing. Match this must-have meal with a glass of French Beaujolais Cru, which you can find in this week's new Weekly Tasting by Marc Supsic.
Now let's get to making those potatoes!
Ingredients:
3-4 Yukon gold potatoes, thinly sliced
1/2 small yellow onion, thinly sliced
1/2 tsp salt
13oz wheel of French Brie
3-4 pieces Prosciutto or ham
3-4 sprigs thyme
Instructions:
1. Preheat oven to 400 degrees F.
2. Place the potatoes and onions in a sauce pan with a little water at the bottom and simmer until tender. Once softened, drain any liquid. Add salt to the vegetables.
3. Layer the potato mixture in six 8-ounce ramekins about half way full. Tear a slice of Prosciutto into pieces and lay atop the potatoes.
4. Slice the wheel of Brie horizontally so you have 2 full top and bottom circles. Chop both circles into good sized pieces and place a section into the ramekin. Repeat the layers again, filling the ramekin with potato mixture, torn Prosciutto, and top with Brie skin-side up to form a crust.
5. Bake for 15-20 minutes or until cheese is toasted and bubbly. Remove from the oven and sprinkle with a few thyme leaves.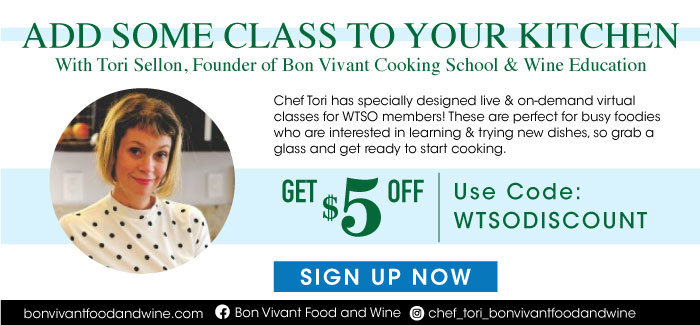 Hopefully, this pairing from us and Chef Tori Sellon will help inspire you to find wonderful wine and food matches all season long. Cheers!