As we head toward the end of the cold season, now is a wonderful time to enjoy warm, delicious meals alongside a bottle of delicious winter wine. Save this recipe for a chilly day — heat up the oven, create a Classic Meatloaf your family will love, and pour a glass to pair with your meal as an extra treat just for you.
In fact, this recipe pairs perfectly with Vins de Vienne Côtes du Rhône Les Cranilles 2015, a must-have red wine available in the Rhône Valley Reds Weekly Tasting pack. Catch this set being featured periodically on the Weekly Tasting tab, or shop a Build Your Own Pack sale to get access to single bottles from previous packs.
Now, let's get to cooking! Serve this meal for 6 after about an hour of cooking and prep.
Ingredients: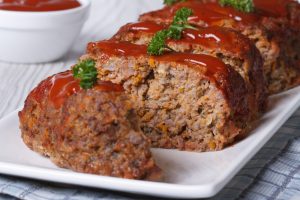 20 salted crackers, crushed
2 eggs, scrambled
1/4 cup sharp cheddar cheese, shredded
1 lb lean ground beef
1/2 lb ground lean pork
1/2 lb ground Italian sausage
2 tbsp Worcestershire sauce
1 onion, grated
2 carrots, grated
2 stalks celery, grated
1 tbsp salt
1 tsp pepper
1/4 cup milk or broth
1 tbsp flour
1 tbsp butter
Directions:
Saute butter with vegetables and garlic until carrots are softened. Let cool.
Combine all components well. Take meat mix and drop into mixing bowl, knocking out air. Repeat 5-8 times.
Bake in a grease loaf pan for 45-50 minutes or until the center reaches 160 degrees. Let rest for 10 minutes, turn out and drain. Slice and serve with ketchup.
And it's that simple! Create this easy dish on a week night in a snap — and of course, don't forget the wine. Pair it with the Rhône Valley favorite we listed, or find another French red wine at any time on WTSO.com. Enjoy!