Whether you're gluten-free for medical or dietary reasons, there are lots of foods missed with this lifestyle. Chef Tori Sellon can relate! She particularly loved seafood and wine pairings, so she found a way to make crab cakes light and crispy without using breadcrumbs or panko. This recipes goes perfectly with a Verdejo from our latest Weekly Tasting set, Wine, Elevated: A Taste of Northern Spain. 
Ingredients:
Crab Cakes
1 russet potato, peeled & cut into chunks
Kosher salt
¼ cup parsley, minced
3 green onions, finely chopped
½ tsp garlic
1 tsp salt
½ tsp paprika
¼ cup chickpea flour, plus dusting
16 oz lump crab meat
Avocado oil, for frying
Cajun Aioli
½ cup mayonnaise
¼ tsp lemon juice
Zest of 1 lemon
2-4 tbsp capers
1 tbsp Dijon mustard
½ tsp smoked paprika
2 tsp hot sauce, or to taste
¼ tsp garlic powder
Directions:
1. Place potatoes in medium pot of salt water and bring to a boil until tender. Drain, and roughly mash potatoes with a fork.
2. In a large mixing bowl, add all the ingredients except the chickpea flour. Gently mix throughly. Add the chickpea flour and mix together well. Taste the mixture and adjust salt or spices. Shape the mixture into equal-sized patties to ensure they cook evenly.
3. Heat 2 inches of oil in a high sided pan or dutch oven. Test temperature by putting a small amount of mixture into the oil and if it floats to the top right away, there's enough heat.
4. Dust each crab cake in chickpea flour before frying. This helps them have a crispy outside crust. Gently fry 3-4 cakes at a time. Overcrowding will drop the temperature of the oil too low and they will not fry effectively.
5. Fry each crab cake till they are golden. Turn and fry the other side until golden. Set fried cakes on a plate lined with paper towels.
6. Make the aioli by mixing ingredients together in a small bowl until well combined.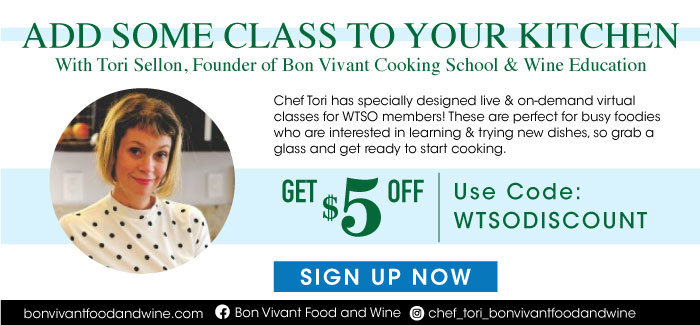 Tori says don't skimp out on making an aioli — and even explore swapping ingredeints or adding your own flavors! Add freshness with herbs like dill or basil, or combine other flavorful sauces like Sriracha or harissa. This version's crisp, zesty flavors from the lemon and capers will make a white wine pairing shine. Visit Weekly Tasting for even more food and wine pairings!