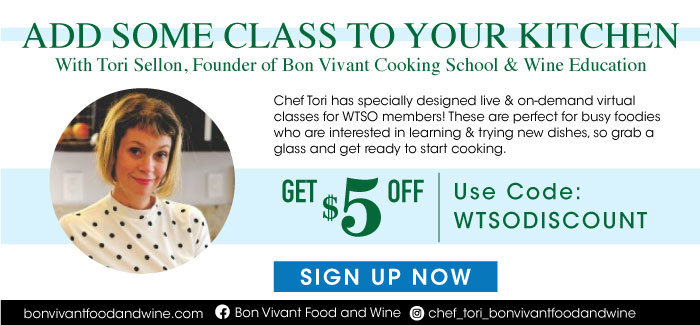 RECIPE by: Chef Tori Sellon from Bon Vivant Cooking School & Wine Education
There's nothing better than a wintry weeknight meal to warm you up and keep you full & cozy.
If you're overdue for some comfort, prepare this Mushroom Walnut Shepards Pie recipe by Chef Tori Sellon for 4-6 people in just about one hour.
And as if the picture of the pie isn't enough to make you want to cook, this fun fact might help: this meal's (not-so) secret ingredient is a cup of red wine. So as you're pouring a red wine such as St. Émilion into your pot, don't forget to set a little aside for yourself to sip alongside your Shepard's Pie creation.
Now grab a French red from St. Émilion, and let's get to cooking.
Below is everything you'll need to get started: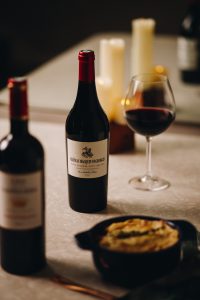 Mashed Potato
3 lbs golden potatoes, cut into 1″ cubes
4 tbsp butter
1 tbsp chives, diced
1/2 cup milk
1-2 tsp salt (or to taste)
Shepherds Pie Filling
4 tbsp butter
1 onion, diced
1 lb mushrooms, sliced
2 cloves of garlic, crushed
1 cup chopped walnuts
3-4 carrots, diced
2-3 stalks of celery, diced
2 15oz cans of black lentils, rinsed
1 cup red wine
1 tbsp tomato paste
1 cup vegetable broth
2 tbsp corn starch
Bouquet Garni, tied with twine:
3 sprigs fresh thyme
2 stems of rosemary
2 bay leaves
And here's how to put it all together: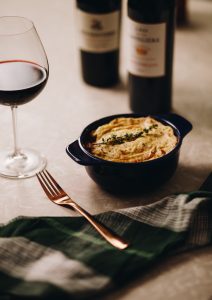 1. Preheat the oven to 425 degrees F.
2. Place potatoes in a large stock pot with salted water. Bring to a boil, and drain potatoes once tender enough to easily pierce with a fork.
Instant Pot:
Place 2-3 cups of water in the bottom of the main insert. Place potatoes in and liberally salt. Cook under pressure for 8 min and immediately release pressure. Drain.
3. Mash potatoes using mixer or potato masher. Add all remaining ingredients and mash with your desired method. Set mashed potatoes aside.
4. Melt butter in a cast iron skillet or dutch oven. Add onions, garlic, carrots, and celery, then lightly salt. Cook about 5 minutes until softened. Add mushrooms and sauté until juices release.
5. Add the lentils, red wine, tomato paste, broth, and walnuts. Place the bouquet garni on top and cover the dish. Let it simmer on medium heat for 10-15 minutes, stirring occasionally to avoid the bottom burning.
6. Remove the herbs and season to taste with salt. Sprinkle cornstarch evenly on top, slowly mixing it in. Simmer for 1-2 minutes until thickened to a gravy-like sauce.
7. Spread the potatoes on top of the mushroom filling in an even layer. Then take a fork make diagonal marks across the top of the potatoes. Now do the same in the opposite direction to make a cross hatch pattern to create nice brown edges on the crust. 8. Bake for 30-35 minutes until potatoes are browned at the edges and the dish is bubbly.
Feel like a five-star chef from the comfort of your own kitchen this fall when you prepare this Mushroom Walnut Shepards Pie. And to make the meal even cozier, grab a bottle of St. Émilion from our latest Weekly Tasting set to pair it with. Now grab a comfy blanket, and dig in!