Want to make a delicious healthy meal tonight, but don't feel like firing up the oven? Create this Poke Bowl for 4 in 1 hour and 15 minutes total by cooking rice and combining ingredients,
And better yet, reward yourself for making it by pairing your dinner with wine. Pour a glass of Les Vins de Lisennes Brut Cremant de Bordeaux, a light and refreshing sparkling wine that can turn any ordinary night into a celebration. Catch this set in the Wine Rack Staples pack, which gets featured periodically on the Weekly Tasting tab. Or, shop a Build Your Own Pack Sale in the future to get access to single bottles from previous packs.
Time to start cooking. Here's what you'll need:
Ingredients: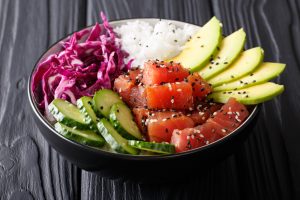 3 cups short grain rice
1/4 cup white wine vinegar
1/4 cup rice vinegar
1/4 cup sugar
1/2 cup soy sauce
1 lemon
1 orange
2 tsp sesame seed oil
3 tsp toasted sesame seeds
4 spring onions, sliced
1 serrano pepper, minced
1 cucumber, sliced into half moons
1 carrot, shredded
4 breakfast radishes, thinly sliced
1 sheet nori seaweed, shredded
2 avacados, sliced
1 1/2 lbs raw sushi grade fish
Directions:
Cut fish into a bite sized dice. Combine soy sauce, sesame oil, 2 sliced spring onions, serrano pepper and the juice of 1 lemon and 1 orange. Pour soy sauce mix, reserving ¼ cup, onto the fish and mix well. Let marinate for at least 1 hour in the fridge.
Cook rice per rice cooker instructions. In a saucepan, heat white wine vinegar, rice vinegar, salt, and sugar while stirring until the sugar is disolved. Remove and let cool.
Once the rice is cooked, pour the vinegar mix into the rice while folding the rice gently. Once the vinegar is dispersed and rice is cool, set aside. Build poke bowls with a base of rice. Top the rice with marinated fish and sliced vegetables. Sprinkle on reserved sauce, sesame seeds, and shredded nori. Serve immediately.
And now, you have a new go-to dish to pair with a celebratory bottle of wine any night of the week! Try it with the bottle we listed, or find other sparkling wines to pair with meals at any time on WTSO.com. Enjoy!