Find the perfect summertime meal to pair with your favorite refreshing wine! Create this Ratatouille for the whole crowd, 6-8 people, in 1 hour and 25 minutes — and of course, serve it with its perfect wine match. — and don't forget the wine! Pair this delicious dish with a must-have rosé from the NEW Weekly Tasting set, 2019 Rosé Tasting!
Here are the ingredients you'll need: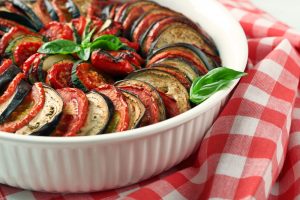 5 tbsp olive oil, divided
1 medium onion, peeled and diced
1 yellow or orange bell pepper, diced
2 cloves garlic, peeled and minced
1 16oz can crushed tomatoes
2 sprigs fresh thyme
1 bay leaf
1/2 tsp red pepper flakes
2 thin eggplants, sliced into thin rounds
2 medium zucchini, sliced into thin rounds
2 summer squash, sliced into thin rounds
4 roma tomatoes, sliced into thin rounds
Fresh basil leaves, roughly chopped
Salt & pepper to taste
Optional: 1 tbsp herbes de Provence
And here's how to complete the meal:
Preheat the oven to 375 degrees F. Add 2 tbsp olive oil to a large dutch oven, cast-iron, or heavy-bottomed oven-safe pan over medium heat.
Add onion, bell pepper, and garlic and cook until soft and fragrant. Add crushed tomatoes, bay leaf, thyme, optional herbes de Provence, red pepper flakes, and a pinch of pepper. Simmer until slightly thickened.
Remove the thyme sprigs and bay leaf. Add salt to taste. Remove from heat.
Arrange the eggplant, zucchini, summer squash, and tomato rounds over the sauce by alternating them in a concentric spiral with a slight overlap to display the colors.
Drizzle with remaining 3 tbsp olive oil and sprinkle with salt & pepper. Cover with foil and bake for 40-45 minutes.
Remove the foil and bake for 15-20 minutes.
Remove from oven and top with fresh basil. Serve with crusty bread or over creamy polenta
And there you have it, a delicious Ratatouille dish from home! And of course, don't forget to pair your meal with a bottle of rosé in a Weekly Tasting set!
Find the perfect wine pairing for your next home-cooked meal by shopping the wide variety of wines at WTSO!