WTSO will deliver premium wine directly to your doorstep in NYC! Getting your wine delivered helps you save time, eliminates the need for you to hop on an extra train, and lets you come home to a delicious bottle of red, white, or rosé. Learn a little more about the perks below: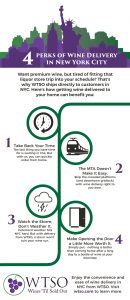 Visit WTSO's homepage to see our latest deals. Act fast if you like what you see – these offers might be gone in a New York minute!

4 Perks of Wine Delivery in New York City
Want premium wine, but tired of fitting that liquor store trip into your schedule? That's why WTSO ships directly to customers in NYC. Here's how getting wine delivered to your home can benefit you:
Take Back Your Time.
The last thing you have time for is waiting in line. But with us, you can quickly order from home.
The MTA Doesn't Make It Easy.
Skip the crowded platforms (and downtown gridlock) with wine delivery right to you door.
Watch the Storm, Don't Weather It.
Inclement weather hits NYC hard. But with delivery from WTSO, a storm won't ruin your wine run.
Make Opening the Door a Little More Worth It.
Simply put – nothing is better than coming home after a long day to a bottle of wine at your doorstep.
Conclusion: Enjoy the convenience and ease of wine delivery in NYC from WTSO. Visit wtso.com to learn more.