California's Sonoma region contains a collection of American Viticultural Areas (AVAs) worth exploring for their rich history, wine-style diversity, and value. Here are 8 essential Sonoma AVAs to know.
Alexander Valley
Located in northeast Sonoma, Alexander Valley enjoys a warm climate combined with the moderating influence of cool evenings and free-draining soils such as gravel. These conditions make it an ideal place to grow and ripen grapes like Cabernet Sauvignon for the production of full-bodied wines. There are some old-vine Zinfandel plantings here as well.
Chalk Hill
A touch warmer than its neighbors, Chalk Hill consists of vineyards planted on the valley floor and at higher altitudes that provide fine sites for Bordeaux grape varieties including Cabernet Sauvignon, Merlot, and Sauvignon Blanc. Chardonnay also grows quite well here. Volcanic white ash gives a "chalky" appearance to the soil.
Dry Creek Valley
This AVA is celebrated for its Zinfandel (including vines more than a century old) and Sauvignon Blanc, though Cabernet Sauvignon, Merlot, and black Rhône grapes also thrive here. Nearby mountains to the west promote warm days for ripening, but the area's cooler nights help preserve vital acidity, contributing to a more overall balanced structure in the wines.
Fort Ross-Seaview
Only wines that come from vineyards planted above the fog line may use the Fort Ross-Seaview name, an AVA within the Sonoma Coast. Pinot Noir and Chardonnay shine brightest here, benefitting from a maritime climate where Pacific winds lead to bottlings known for freshness and high levels of acidity.
Knights Valley
Knights Valley's inland situation prevents any cooling influence from the coast from occurring, making it especially warm. However, some vineyards feel nighttime relief when planted at higher sites. The volcanic soils and preferable drainage found here allow Cabernet Sauvignon to achieve excellent ripeness for bolder, full-bodied styles of wine.
Russian River Valley
The cool, fog-laden setting and longer growing season of Sonoma's Russian River Valley yields Pinot Noir and Chardonnay of world-class quality that become highly desirable wines of a ripe and lush character. Zinfandel also excels here when cultivated on slightly warmer vineyard sites. Both Chalk Hill and Green Valley of Russian River Valley AVAs are located inside the area's boundaries.
Sonoma Coast
The Fort Ross-Seaview and Petaluma Gap AVAs fall within the borders of the larger Sonoma Coast AVA. Vineyards with the closest proximity to the ocean are generally considered to produce the best wines here, with Pinot Noir and Chardonnay suited to the cool maritime climate, resulting in vibrant, elegant examples that garner serious acclaim.
Carneros
Split between Napa and Sonoma, the warm and sunny Carneros AVA receives a cooling effect from the San Pablo Bay, where winds and fog arrive in the morning and evening. Chardonnay and Pinot Noir are two key grapes grown here, primarily for still wines although some sparkling is also produced.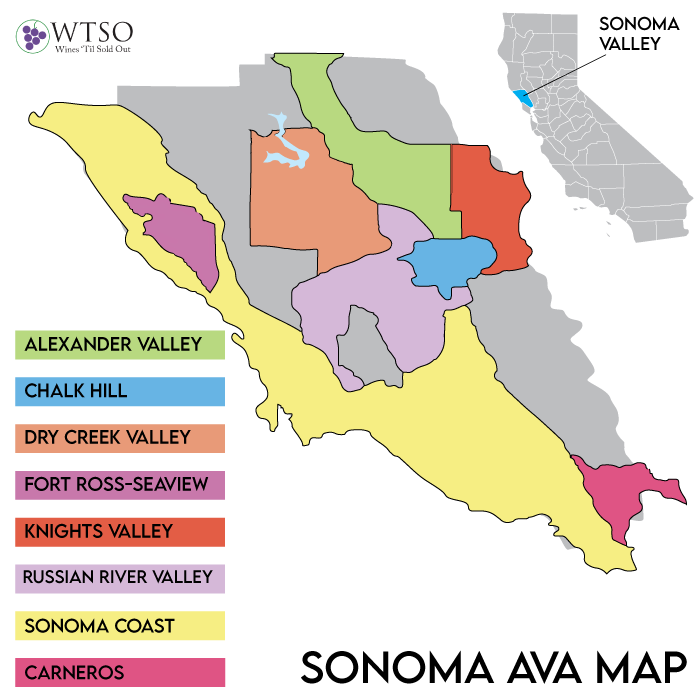 Try two Sonoma County's Cabernet Sauvignon wines in our latest Weekly Tasting, Napa vs Sonoma: Comparing California Cabernets.