Chardonnay has maintained a place among the world's most popular grapes for generations. Legions of devotees buy, drink, discuss, gift, and serve Chardonnay on a regular basis. Its appeal is based partly on the fact that it tolerates a wide variety of climates and growing conditions – leading to an extraordinary diversity of style and solid values. It also responds well to a wide range of fermentation and vinification techniques, which gives the wine great versatility and variation. Here are some tips for finding great Chardonnay that you might not have tried before.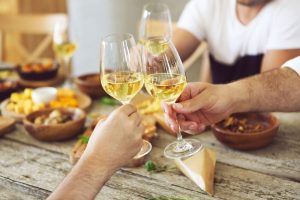 Chardonnay Basics
Many Americans know Chardonnay as an "oaky, buttery" wine from California. Many of us are aware that it is also found overseas in places like Europe but don't really know the difference between one example and another. Chardonnay is essentially a relatively full-bodied, neutral white wine with orchard fruit aromas like apple and pear. It should be noted that the term "neutral" is by no means negative in this case. Whereas some wines have strong and distinctive flavors like grapefruit or licorice that might turn some people away or conflict with the taste of food, Chardonnay's milder flavors allow for it to pair with more dishes and reflect the distinctiveness of where it was grown, as well as how it was made. For example, Chardonnay sees more oak aging than nearly any other white wine because the toasty, nutty, spicy complexity of the oak does not conflict with the benign character of the grape.
New World and Old World
Chardonnay originated in the Burgundy region of France, which is still one of its main strongholds. As the only white grape found in Burgundy in any quantity, Chardonnay is taken extremely seriously. The Burgundians rank their vineyards and bottlings, with the most prestigious label as  "Grand Cru," or "great growth." These wines command high prices and are highly sought after by collectors, though much more affordable white Burgundy is also available. Old World Chardonnays, like those from Burgundy, are generally lighter in body, more tart, and drier than their cousins from places like the United States or Australia. They also are said to have a "mineral" quality, reminiscent of mineral water or wet slate.
New World Chardonnays, by contrast, are often opulent, oaky, buttery, and full of ripe fruit aromas. California, in particular, has developed a reputation for heavily oaked, high-alcohol Chardonnays that are in stark contrast with the lean, mineral examples from France. California Chardonnay owes its style partly to the relatively warm climate but also to the widespread use of oak and a process known as malolactic fermentation. Both of these practices are described below. Note: oak is also used in France and some California wineries avoid it. This post is focused on broad generalities – there are individual exceptions in nearly every country and region.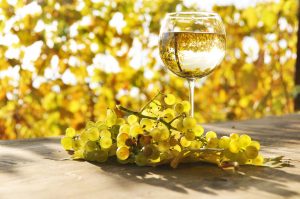 Oaked and Unoaked
As discussed earlier, the use or absence of oak is a prime consideration when buying Chardonnay. Unoaked Chardonnay is similar to many other white grapes, with flavors dominated by fruit notes like lemon, apple, pear, and melon. The addition of oak aging provides secondary flavors that vary widely but often include toast, nuts, vanilla, and coconut. In the United States especially, some wineries use such heavy oak influence that the fruit flavors can seem to fall into the background.
Malolactic Fermentation
Perhaps the least understood element in choosing Chardonnay is the process of malolactic fermentation, also referred to as "malo." This is a post-fermentation process wherein fruity acids, like those found in apples, are converted into lactic acids, like those found in dairy. Wines that have undergone malo also have a softer mouthfeel and can seem fuller bodied. Malolactic fermentation is the source of the famous "buttery" flavors in Chardonnay, and though it is more common in oaky wines, they don't always go together. Wines can be made with "no malo," as well as partial or full malo. Keeping an eye on the descriptions of the wines you buy will help you to get Chardonnays that better fit your preferences. If you like fruity, lean wines, avoid malo; if you like Chardonnay that tastes like movie theater popcorn, go for full malo.
It's easy to find descriptions of individual wines with glowing reviews telling you how delicious they are, and it's helpful to understand the broad concepts behind these descriptions. Hopefully, this article will equip you to better understand technical information on the Chardonnays you're considering and to enjoy them even more.