The Italian peninsula hosts a dizzying array of native grape varieties – only a few of which are known in the US. Most of the wines we see regularly come from northern Italy, such as Prosecco, Barolo, Brunello, Amarone, etc. The southern half of the country is less populated, warmer, more arid, and boasts a magnificent wine culture worthy of exploration and appreciation. In this post, we'll discuss five of the most delicious and underappreciated red grapes from Italy's southern regions.
Nero D'Avola
Among the most commonly grown grapes in Sicily, Nero D'Avola ("neh-ro DAH-vola") is named after the city of Avola and the grape's dark color. It's also known as "Calabrese" in Calabria right across the Strait of Messina. Nero D'Avola is commonly compared to Syrah, as they both have a deep color, medium to full body, dark fruit flavors like wild blackberry, and piquant spice notes of cinnamon, anise, and clove. It can also be compared with Cabernet Sauvignon since both grapes have dense tannins that provide a great pairing opportunity for red meats like beef and lamb.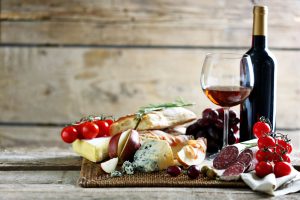 Primitivo
This grape is found mostly in the region of Puglia, where it was once used primarily for bulk wine. It has since gained popularity as a varietal wine, due in part to the revelation in the 1990s that it is genetically identical to Zinfandel, with both strains likely originating in Croatia. Its name seems to imply "primitiveness" to English speakers, but it actually means "early one," referring to its tendency to ripen early in the season. Primitivo can be so full bodied that it comes across as chewy and viscous – a delight for those who enjoy truly enormous wine. The body of Primitivo is due to its relatively high alcohol, which can reach up to 18% abv. This lends even dry wines a suggestion of sweetness – even when all the sugar has been fermented. The flavors range from red cherry to stewed plum, with notes of leather and black pepper. Primitivo is great by itself or with rich, fruit-based preparations like duck in plum sauce.
Frappato
A relatively light-bodied wine from Sicily sometimes compared with Pinot Noir or Gamay, Frappato yields friendly aromas of strawberry, raspberry, and ripe grapes. It's often blended with Nero D'Avola to make Sicily's most prestigious red wine, known as "Cerasuolo di Vittoria." If you can find Frappato bottled as a varietal wine, you'll discover its unique light quality, despite being a warm-climate wine. Whereas most lighter style wines tend to come from cool regions and are tart and lean, Frappato is soft and mellow, with lower acidity than Pinot Noir or Gamay. The lightness of the texture and mild tannins make it a good accompaniment to seafood, like salmon or shrimp.
Negroamaro
The name of this grape arguably means either "black and bitter" or "dark black." Either way, the grape is indeed dark – both in color and in the style of fruit flavors. Blackberry, black cherry, and blackcurrant notes are accented by the bitter taste of clove and almond. The area most associated with Negroamaro is Puglia's Salento peninsula, where it's used both for varietal wines and in blends with medium to full body. Negroamaro makes a good accompaniment to dishes with a smoky flavor like smoked beef or barbecued pork. It also can represent one of the best values in Italian wine since it often sells for very modest prices relative to its quality.
Aglianico
Perhaps the most prestigious grape on this list, Aglianico is known for producing bold, complex reds with a structure similar to Cabernet Sauvignon, but with a distinctively smoky, almost volcanic aroma that's far more appealing than it may sound at first. The most famous area for production of Aglianico is near Naples in Campania's Taurasi, where the grape is treated to oak aging and winemaking techniques that allow it to rival wines like Brunello or Barolo for quality. Fortunately, Taurasi sells for less than more well known wines, making it a great choice for collectors and gift givers alike. Pair Aglianico with red meat and pasta in red sauce for an Italian wine experience you won't soon forget.
Now that you know more about some of the grapes of southern Italy, you'll be prepared to branch out and enjoy something new the next time you shop for wine.