You asked WTSO to help you better understand your palettes – and we listened! As a result, we are introducing Weekly Tasting to give you a guided wine experience.
Our weekly wine tastings are an experience for wine lovers at all levels. Whether you're a connoisseur looking to expand your tastes or a newbie trying to find out which varietals you like best, our weekly tastings can help you decide.

So what exactly are our Weekly Tastings?
Weekly tastings allow you to get to know your palette and learn more about different types of wine from around the globe. They're also perfect for gifts and social gatherings.
And the best part about these tastings is that they don't require any membership or extra fees. No matter what wines are included, you only pay $69.99 no matter what. It's not a club, so everyone is welcome to participate in weekly tastings, and there's no obligation to make a recurring payment to reap the benefits.
How does it work?
It all starts with our sommeliers. Each week, two of our carefully selected sommeliers pick a new four pack of wine with a common theme. They try hundreds of international and domestic wines to find the best examples from every region.

What comes with a Weekly Tasting package?
Your weekly tasting package will arrive directly at your door. Here's what you can expect:
Wine – Four 750 mL bottles of wine
Video – 10-minute tasting video led by the sommelier
Cards – A pack of tasting cards with recipe pairings
Cellar Access – Access to a weekly tasting cellar to review the wines and share with friends
All you have to worry about is tasting and enjoying the wine that we send! You can even pick which week and sommelier you like.
The 4-Step Weekly Tasting Process
To sum it all up, the weekly tasting package starts with in-depth research on our part, and ends with a selection of wine that you're guaranteed to enjoy. It's up to you to discover which ones you love the most!
Sample – We begin by trying and selecting the wines we think our customers would love.
Ship – Once the packages are ready, we will send them right to your home.
Watch – Watch the sample video to learn more about your wine and the food it pairs best with.
Enjoy – Enjoy the delicious and high-quality wines that we deliver.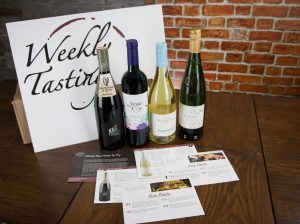 If you're interested in beginning weekly tastings with WTSO.com, sign up today at https://www.weeklytasting.com/. After signing up, you will receive delicious wines that will expand your palette and expose you to new types and flavors.