Are you a wine and cigar aficionado? Are you trying to find the perfect wine pairing for a special occassion or relaxing Friday night? If you answered "yes" to either of those questions, you're in the right place.
WTSO teamed up with our friends, the experts at CigarClub.com, to bring you three unique cigar and wine pairings that are must-haves for connoisseurs and casual sippers alike. Next time you break out those special cigars or buy some new favorites, try it with one of these delicious varieties from our online wine store.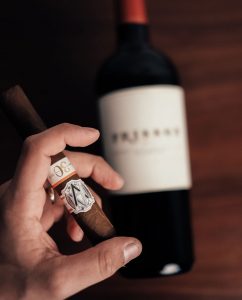 Nat Sherman Host and Oaked Wines
Wrapper: Connecticut
Binder: Honduras
Filler: Honduras
Nat Sherman cigars have a rich history, and the quality of the brand has always been primo. In fact, this Honduran beauty offers a silky-smooth, super-mellow taste – refined, oaky, and pleasant with just a slight hint of sweetness on the palate. 
This is the perfect cigar to pair with an oak and vanilla-forward wine. With a mild cigar, you'll be able to notice the characteristics of the wine and still get tons of creaminess from the cigar. 
Top wine pairings for this type of cigar include:
Oaked Napa Chardonnay – creamy and nutty, with hints of baked apple
Oaked Sauvignon Blanc (Fume Blanc) – smoky with bold fruit flavors, perfect fit if you prefer white wine
Oaked Zinfandel – spicy with notes of plush fruit and vanilla for a balance of sweetness
Archetype Crystals Robusto and Bold Reds
Wrapper: Sun Grown Habano
Binder: Nicaraguan Habano
Filler: Nicaraguan Habano
This Nicaraguan Puro is everything medium- to full-bodied cigars from Nicaragua are supposed to be. Spicy [think cinnamon], balanced, clean, and constantly evolving. With notes of leather, pepper, and dark fruit, this may be one of the best cigar profiles to pair with a deep, classic red wine. A cigar of this profile is strong enough to cut through more full-bodied wines without being drowned out. 
The best wine pairings for this cigar are:
Northern Rhone or Australian Syrah/Shiraz – develops hints of leather when aged, has notes of pepper and fruit
Amarone – full and robust with dark fruit notes, can also develop hints of leather.
Napa Cabernet Sauvignon – Spicy and toasty if aged in oak, strong notes of dark berries. 
Rodriguez Primera Clase and Chocolatey Wines
Wrapper: Mexico San Andreas
Binder: Nicaraguan
Filler: Nicaraguan
All the leaves that make up the filler in this Rare Reserve (Ligero, Viso, Seco) have undergone a long and careful aging process of four years before the cigar is manufactured. This is a true medium-bodied cigar and a very versatile cigar for pairings. It has an exquisite flavor profile providing connotations of rich and dark nuttiness, hints of nutmeg, cocoa, and finishing creamy in texture. Smoke it with almost any wine and you are sure to enjoy the depth of flavors you find in both the cigar and the wine. 
Our favorite wine pairings include:
Rioja – notes of coconut, chocolate, and spice when aged in American oak
Port – sweet, oaky, and possibly nutty with notes of chocolate, plum, and cherries
Argentine Malbec –  plush and fruity with notes of plum, violet, chocolate, and vanilla if aged in oak
And there you have it: the top three cigar and wine pairings from WTSO and CigarClub.com. Now it's time to sit back, light up one of the cigars listed above, and shop WTSO for the perfect bottle to pair it with.
Find bold red wines, red wines with chocolate notes, and classic oaked wines when you browse our ever-changing variety. And if you're looking for a bottle of wine for a special occasion, check out high-end favorites in our Premium Selection. Start pairing in just a few clicks today!