If you thought the best Old World bottles were beyond reach, look to Bordeaux's "Right Bank" for a wealth of exciting wines to explore. Even within the Grand Cru Classé châteaux of Saint-Émilion, values from ambitious producers are still ripe for the picking, which is why we're shining the spotlight on one of our favorites: Château Fombrauge. 
Historical Background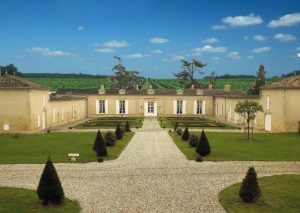 The building and grounds that would become Château Fombrauge served originally as a Carthusian monastery. Starting with Jacques de Canolles in 1466, six families have retained ownership of the estate. 1599 marked the first grape harvest, and during the 18th century, the Dumas de Fombrauge family were instrumental in establishing fine winemaking at the domain. Though proprietors of the château changed several times between then and the present (including briefly becoming national property during the French Revolution), its wines developed and retained a strong reputation for their distinct expressions of Saint-Émilion terroir. 
In 1999, Bordeaux entrepreneur and wine connoisseur Bernard Magrez purchased Château Fombrauge, restructuring the vineyard and modernizing the wine production facilities. Thanks to these improvements and an overall rise in wine quality, Fombrauge achieved a Grand Cru Classé designation in the 2012 Classification of Saint-Émilion. Today, it serves as one of four estates in a quartet of Grand Crus owned by Magrez that also includes Château Pape Clément in Graves, Château La Tour Carnet of Haut-Médoc, and Château Clos Haut-Peyraguey in Sauternes. 
Production Insights
Château Fombrauge holds more vineyard surface area than any other Saint-Émilion Grand Cru Classé, covering over 58 hectares from which various soil types and exposures contribute to the diversity of their production. They utilize precision viticulture to cultivate traditional Bordeaux varieties, including Merlot, Cabernet Franc, Malbec, and Cabernet Sauvignon. Each grape undergoes extensive sorting before maceration. The wines mature in a flexible combination of new oak barrels, previously used barrels, and cement tanks for different lengths depending on the growing season. Celebrated enologist Michel Rolland plays an integral role in the estate's success as a consultant, and major publications routinely score the grand vin in the 90- to 95-point range. 
The Grand Vin
Only Fombrauge's highest quality grapes make it into their Grand Vin, typically a full-bodied, palate-coating red blend led by Merlot. The château benefits from being able to adjust the cuvée as needed to maintain its outstanding nature from year to year since they have an assortment of unique plots available to select. Beautifully ripened black and red fruit flavors along with vast textural richness are consistent hallmarks of this Saint-Émilion Grand Cru Classé – a luxurious Bordeaux red that's delicious in its youth but capable of slow and steady improvement in the most excellent vintages. 
Keep your eyes peeled for the lavish, collectible wines of Château Fombrauge and other classic Bordeaux bottlings on WTSO.com!