This Valentine's Day, I've decided to embrace the holiday to show my loved ones how much they mean to me. Of course, Valentine's offers an opportunity to show appreciation for sweethearts, but we can also let our friends and family know how much they mean to us through the poignant gift of wine. Here are a few interesting wines that will speak the language of love in a glass while providing stories and conversations for your Valentine's table.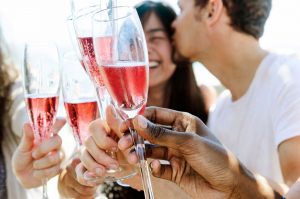 Champagne Rosé
Champagne, the classic wine of celebration and romance, seems even more appropriate for Valentine's Day when served in its pink variation. Champagne Rosé is unique among European wines in the way it's normally made. While other French Rosé comes exclusively from red grapes, winemakers in the Champagne region are allowed to blend white wines made from Chardonnay with red wines made from Pinot Noir and Pinot Meunier. By law, Champagne is the only part of France and one of only a handful in the world that allow this blending technique. For more on standard Rosé production methods, see our previous post on the subject.
For drier Champagne, look for wines labeled "Brut." If you want something with a little sweetness, look for bottles with the (counterintuitive) label "Extra Dry." In any case, true Champagne will reward you and your companion with complexity, balance, and wide-ranging flavors, from strawberry and citrus to toasted nuts and freshly baked bread. Champagne is one of the most versatile wines for food pairing, so you can open it alongside anything – try it with fresh fruit, and save some to sip with your filet mignon, as well.
Saint-Amour Beaujolais
Southern Burgundy's Beaujolais region contains ten sub-regions called "crus," which designate wines of the highest local quality. The northernmost of these crus is called "Saint-Amour," named for a Roman soldier who founded a monastery in Burgundy and became an early Catholic martyr. Given that Amour means "love" in French, this wine features both romantic connotations and a great story. Beaujolais is made entirely from a single grape similar to Pinot Noir called "Gamay," with a light body, low tannins, fruity flavors and a dry finish. Beaujolais is delicious with seafood dishes like salmon on a cedar plank or crab cakes. It's also delicious with roasted chicken or duck.

Sauternes
This dessert wine from the Bordeaux region is comprised of a blend of white grapes, including Sauvignon Blanc, Sémillon, and Muscadelle. The grapes are affected by a mold during the growing season that dries them slightly, increasing the concentration of flavor and sugar. Wine made from the resulting fruit is deeply golden with luscious tastes of sweet apple, pear, pineapple, papaya, ginger, and white flowers. Those of you planning a Valentine's dessert would be wise to consider a bottle to pair with anything from vanilla to tropical fruit-based dishes. Peach cobbler, cheesecake, and tiramisu are just a few of my favorite Sauternes pairings. Its lavish sweetness is also considered a classic accompaniment to blue cheese.

Tawny Port
Port is a sweet, high-alcohol, usually red wine from Portugal that has brandy added to it before fermentation is complete. Tawny Port, as its name suggests, is slightly brown in color from aging in oak barrels. Extended aging also provides flavors of caramelized nuts, coffee, and chocolate to its already extensive flavors of dried and candied fruit. Lovers of chocolate owe themselves a bottle of Tawny Port as it provides among the best pairings for chocolate in all forms, from cake to ice cream. What better way to end a Valentine's meal than with chocolate and Port? It will add a special touch to your special day.
Each of these wines will enhance your Valentine's celebration on its own, but consider getting a bottle of each. Opening and tasting them side by side or pairing them with a multi-course meal will enhance your time spent with loved ones.