Napa Valley lies at the heart of our understanding of American wine – and for good reason. Many of the most expensive and recognizable wineries are located there, and the climate is undeniably perfect for viticulture. Napa, however, is by no means the only California region producing great wine. Sonoma is also justifiably famous, and more attention is being drawn by southern areas like Santa Barbara, but in this article, we'll be turning our attention north to Mendocino and Lake Counties – both of which are underappreciated and exceptional.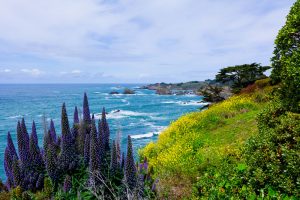 Mendocino County
Unlike neighboring areas to the south, which rely on the moderating influence of the Pacific Ocean to prevent overheating, Mendocino vineyards tend to be located farther inland, where warmer temperatures allow for the production of dense, opulent wines. The coastal area of Anderson Valley is a notable exception, having been developed by producers looking for a cool-climate location to make wines inspired by Champagne and Burgundy.
Many of the first vineyards in Mendocino were planted by nineteenth-century Italian immigrants to quench the thirst of hard-working miners and prospectors. Being farther from cosmopolitan San Francisco than Napa or Sonoma meant that Mendocino winemakers had more difficulty marketing and exporting their wines and the industry was largely wiped out by prohibition in the early twentieth century – a period you can learn more about in our previous post on the subject.
The bulk of Mendocino wine production occurs in the southern portion of the county where Cabernet Sauvignon, Zinfandel, and Petite Sirah thrive. These wines remind me of the concentrated reds of Washington State with their deep colors, ripe fruit saturation, and tannins balanced by rich texture and generous alcohol. Those who enjoy New World-style reds and appreciate good deals should keep Mendocino in mind, as great deals can be found relative to those from more famous regions like Napa. There's something rustic and unpretentious that I find appealing about the big reds from Mendocino.
As mentioned before, the Anderson Valley viticultural area is exceptional in Mendocino for its cool-climate grape varieties and European-inspired styles. Sparkling wines, Chardonnay, Pinot Noir, and Rosé from Anderson Valley are all delightful but only represent a small portion of the wines produced there. The Anderson Valley is noted for its beauty – as well as its wine – and makes a great out-of-the-way destination for travelers if you ever find yourself nearby.
Lake County
Positioned to the east of Mendocino County, Lake County contains Clear Lake, the largest body of freshwater in the state. Most of the wineries in Lake County are at a relatively high elevation, which allows for strong daily temperature variation and thus, intense flavors in the resultant wine. As in Mendocino, Lake County is farther from large population centers than Napa Valley and was, therefore, more likely to supply wine to local miners than to more populous cities. Its reputation has grown in the past few decades, however, particularly for the quality of its Sauvignon Blanc, Cabernet Sauvignon, and Chardonnay. Lake County's lower profile and less developed industry allow for small wineries to innovate and express their individuality. Many delightful wines can be found in nearly any style, as the topography hosts diverse microclimates and soil types. Lake County wines may not have the name recognition of those from farther south, but they do have a proud heritage and quality that often far exceeds the modest prices. I savor the chance to try a new Lake County wine each time I encounter one and hope you enjoy them as much as I do.
Hopefully, this article will inspire you to explore the regions north of Napa to discover new vineyards, producers, and experiences to broaden your enjoyment and appreciation of California wine.