In celebration of Women's History Month, partnered wine expert Marc Supsic had the pleasure of interviewing three very accomplished wine industry bosses:
Silvia Camacho, Founder and Managing Director of V&N Cellars
Carine Pichot, owner and winemaker at Domaine de Fabregues in Languedoc, France
Amelie Aubert, 7th generation winemaker at Domaines Alain Aubert of Bordeaux, France
Silvia begins the conversion on the topic of being a woman in the wine industry. Her opinion:
While women in the wine industry are still in the minority, we're done talking about it now (all three were in agreement). Better than lip service and hollow tributes, it's more productive to move forward by reforming the male-dominated culture in order to give women the same opportunities to succeed.
In general, the sentiment was that while (these) women prefer the company of other women as friends and in their personal lives, when it comes to business, they'll work with anyone as long as there's mutual respect. And that should work both ways. In other words, no real issues with men, or as a woman in the industry.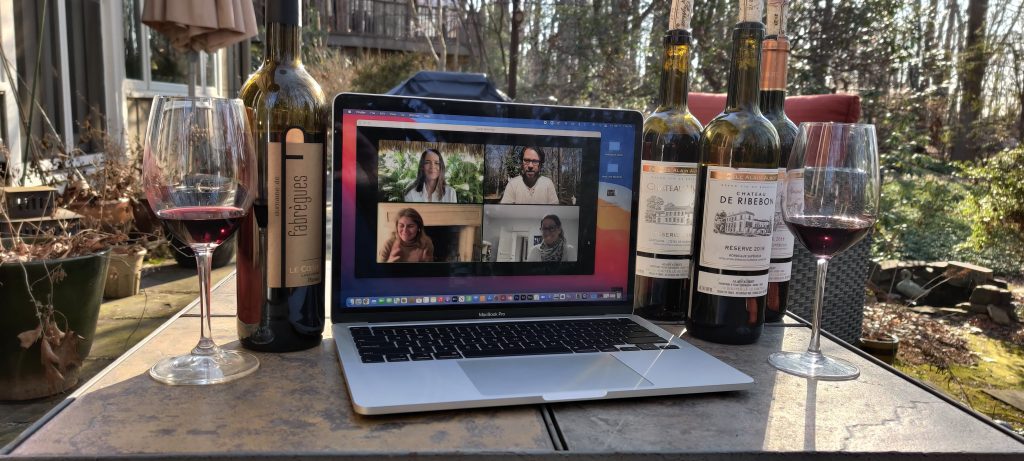 Marc: What is your first memory of wine and why did you choose your line of work?
Silivia: Probably Cava, but no specific wine. I grew up in the Barcelona region and wine was always a part of the culture. I wanted to share that with others; and to be honest I love the travel aspect of my work – going to other parts of the world and seeing how other people live, by way of their wine and food – then sharing that experience with everyone.
Carine: I was a newcomer to wine! I shared a glass of wine and a meal with my then boyfriend (now husband) and the romance of the moment piqued my interest. It was an Italian Amarone. Wine became a part of our relationship and I wanted to [pay] that feeling, that romance, forward for others. Note: Carine has owned Domaine de Fabregues since 2005.
Amelie: I grew up in Bordeaux and winemaking has been in my family since I was a child (the family has been in the region since the 1700s). I remember drinking sweet Sauternes in my youth, which was especially delicious for a child!
Marc: What challenges have you experienced as a winemaker or importer?
All: Right now the supply chain issues, especially with glass. Our prices are going up exponentially. But worse than that is the waiting period for everything.
Silvia: As an importer it affects shipping and delivery times. We can find glass, but in some cases have to wait months to get it delivered.
Amelie: The weather has been tough in recent years. Hail is a major problem. The last few years were very hot, too, which affects yield. And we always aim to avoid using any chemicals and pesticides, but in some years the weather makes it tough.
Marc; What is the best part about your job? The hardest part?
Silvia: The best part is bringing people together!
Carine: (Agreeing). The hardest part is everything else. We are a small winery so I do everything. You are busy all of the time! There is always something to do, from pruning the vines to racking wines to visiting with vendors and going to the conventions to sell. You are always busy. It's a lot of work.
Marc: For the winemakers, are either of you introverts? I would imagine working in the winery can be lonely.
Carine: I'm an introvert while in the winery, but I enjoy the company of happy people, otherwise!
Amelie: I am an extrovert! We have over 600 acres in Bordeaux, multiple Chateaux and are entertaining people all of the time (Chateau de Ribebon used to be a hunting lodge for King Louis XVI). I love having people visit, bringing their children, sharing the wine and hospitality and just seeing people bond over the wines.
Marc: What is your favorite wine that you make and the best food pairing with it?
Amelie, pointing to the fireplace behind her: We cook right here every night! I love roasted meats, especially beef. We use the clippings and wood from the vineyards to cook the food and it's full-circle (Domaine Aubert hopes to move to Organic and Biodynamic farming, which involves recycling everything on the land). As far as our wines, I cannot choose. Each one is great for different reasons!
Silvia: There are too many to choose from. I love all of the wineries we work with and for me it's about the relationships. Each wine tells a story and it's contextual; it might taste different depending on the weather, certain friends you're with and what you're eating. It changes with the situation!
Carine: For me, it's the one you're drinking (Marc is drinking the Dmne. de Fabregues "Le Coeur" blend of Syrah and Carignan). I use partial Carbonic maceration on the Syrah which makes it light and fruity. It's an easy and fun wine to drink! I want my wines to be approachable, everyday drinks.
Marc: I feel that good wines should inspire you when you taste them. When people drink your wines, what thoughts do you hope come to mind?
Silvia: Just that people are happy and that it brings them together!
Carine: I am a very happy person. I smile a lot! I want people to feel that when they drink my wines.
Amelie: I want people to taste the tradition of my family and the Bordeaux region. Here, it's all about the soil. We have the greatest soil on the Right Bank (Dordogne River side), and we make wines that show the history here. And as a woman I make feminine, sexy wines that have curves and are silky.
Marc: Is it OK to call a wine, "feminine?" I feel like here in the United States you get into trouble if you use that word!
All: Yes, it's perfectly OK. These days, wine drinkers are predominantly women. To buy a bottle at the shop and go meet your girlfriends for an evening of fun, is a very feminine and sexy thing. It's OK to say that.
Feminine is not a bad thing! Just as there are masculine wines that can be very big and direct, a feminine wine is more subtle and elegant… but still powerful.
Marc: On behalf of WtSO, thank you so much everyone, for your time and of course, for what you do. Your work is invaluable to us, and yes, it makes us happy, too. Cheers!
To celebrate Women's History Month throughout March, we will be highlighting some inspiring women in the wine industry around the world on this dedicated page on WTSO.com.