At WTSO, we're known for offering high-quality wines one at a time until they're sold out. But as our most dedicated wine lovers know, we always strive to offer more selections and shopping methods that tailor to our customers' tastes and can help expand and refine their palates.
And that's where Weekly Tasting comes in. Weekly Tasting, which was born in 2017, started as WTSO's daughter company that offered curated wine packs from certified sommeliers. Since then, Weekly Tasting has merged with the WTSO brand to provide an even more comprehensive and indulging tasting experience for wine lovers at all levels.
Today, Weekly Tasting has its own unique following and has introduced a new way to enjoy wines from around the world. Still curated by a certified sommelier, each Weekly Tasting pack contains 2-4 bottles of high-quality, carefully sourced wine that represent a certain theme. Some tastings are curated to inspire comparisons, while others are intended to give you a taste of something new. 
Each set is created with variety in mind. We offer packs that are focused on popular rosés, classic red selections, crowd-favorite light white wines, and sometimes a combination. Here are some of our all-time favorite packs we've seen over the past few years: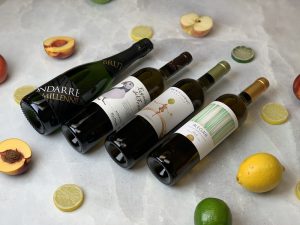 Italian Reds: California vs. Italy
White Wines of Spain
2018 Rosé Tasting
Discover Bordeaux
Classic Pinot Noir
But Weekly Tasting packs don't stop at the bottles. Sure, you get a few must-have wines to taste and enjoy, but the fun doesn't end there. In true WTSO fashion, we try to give you a wine experience that you can't get with just any wine set.
Weekly Tasting and our team of wine experts, including Master Sommelier Laura Maniec, stuff a ton of wine knowledge into each pack. With each wine set you order, you'll also get:
Tasting notes – On each card (one per bottle), a certified somm will discuss the origin, aromas, flavors, and more facts behind the wine
Pairing recipes – Every bottle is paired with a delicious food recipe for you to try at home
Video lessons – A somm will walk you through the tasting in a short, informative video
So as you can see, Weekly Tasting sets are much more than packs of wine — they're perfect companions for self-care sessions, a great addition to at-home date night, and a wonderful gift for any wine lover in your life. From new wine explorers to seasoned connoisseurs, everyone is bound to get something they enjoy from one of these curated wine sets.
One featured Weekly Tasting is offered every week, on the WTSO website, starting on Mondays. Beginning on June 15, 2020, one pack will be available each week instead of the usual four. While we previously offered additional sets each week, the Weekly Tasting team thought it best to commit to just one featured pack in order to give customers a seamless and attentive user experience. Packs are subject to selling out and old ones are always resurfacing, so it's important to keep an eye out for your favorite at the beginning of each week! Weekly Tastings are available at just $39.99 – $99.99 per set. Why wait to dive into the world of wine?
If you don't have one already, create a WTSO account to get the most out of the free, no-commitment wine club that is Weekly Tasting. Indulge in a variety of different wines from around the globe in just a few clicks by signing up today!